| | | |
| --- | --- | --- |
| | | (Japanese: 朽木 はるか - Kuchiki Haruka) |

NAME INTERPRETATION:

- Haruka means "spring, flower"

- Kuchiki means "rot"; "wood".

TYPE: Ani-loid

Mode : NS-14 (NS - the creator's favorite Hero on DOTA 2. As for the number 14 is Haruka's favorite number)

GENDER
Male
VOICE RANGE
E3 - F5 (CV)

F3 - C5 (VCV)

RELATED CHARACTERS

Mizuki Kurosaki (Friend/Duet Partner/Secret Crush(?))

Ruki Kuchiki (female-counterpart)

Shinichi Migine (friend)

Kasane Teto and Yokune Ruko (her favorite of fellow Utauloid)

Megurine Luka (admired)

AGE
21 (official)

17 (appearance)

GENRE
All Genre (expect Musical)
HOMEPAGE
RM-Mizuki
WEIGHT
40 kg

CHARACTER ITEM

Sword
CREATOR
Mizuki Migine
HEIGHT
178 cm
VOICE SOURCE

Mizuki

PICTURE LINK LIST
DeviantArt
BIRTHDAY
July 1st (official)
LIKES
Reading books or manga and listening music.
MEDIA LIST
Soundcloud
RELEASE DATE
'August 17, 2014 (ACT Series)'July 26, 2015

(FINALE)

DISLIKES
Anything what makes her been annoyed
SIGNATURE SONG
Answer

PERSONALITY: Haruka is a boy with always kept his "cool" attitude. Despite his age, Haruka's voice is a shota-type around junior high school age. Secretly, he had a "crush" towards Mizuki.
Character Design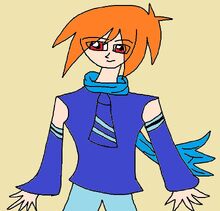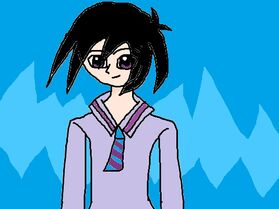 Name: Haruka Kuchiki
Age: 16
Gender: Male
Height: 163 cm
Weight: 40 kg
Hair and Eye Color: Black / Dark Blue
Character Design and Art by Mizuki-chi.
Voicebank
Haruka's voice can be recognize as "shota" voice. However, actually Haruka is a Tenor-type voice (almost like Contralto-type voice for woman but more lower a bit). His best range around D4 to B4.
Current Voicebank: CV (Will Uploaded Soon)
Future (planned) voicebank:
"HUNTER" VCV

Will had multi-pitch (including falsetto + power)
Beta-Voicebank pack just C4 & Falsetto (unknown when will released)
His character-design slightly changes a bit.
Check here for his demo song : This Game -tv size-
Voice Configuration
Haruka's recommended flags are BRE0B0Y0C99H5 with TIPS as his resampler.
Note: Another resampler works too (expect fresamp)
His female-counterpart, Ruki Kuchiki's settings flags same as Haruka's flags, however add around G-12 to G-14 for getting Ruki's voice via Haruka.
Notes:
This article has been written by the author of the character. Please do not edit.
Several notes from author:
- Don't edit the information or copy his voicebank also don't claim him as your own.
- Allowed to be use freely, but NOT for sale/commercial.
- Don't use her for roleplay, unless get permission from the author.
Trivia
Haruka's gender originally planned as female but changed into male instead.
According to Mizuki-chi, Haruka's concept is considered to be a Tsundere while Mizuki considered to be a Dandere.
Both Mizuki's and Haruka's last name are inspired from two characters in BLEACH.
Fun Facts
In making progress, hard to decide of Haruka's gender due her voice most 'deeper' even for a female.
Haruka hates snakes (similiar to Migine's phobia)
Like Mizuki, Haruka loves cosplaying. (LN: In his VCV voicebank, Haruka wearing Gon's costume.)