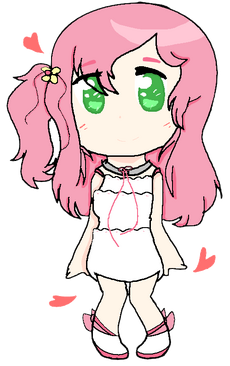 HARU KAORI
Name Interpretation :
春/Haru = Spring 
香り/Kaori = Scent
Derived from the creators birthday, which is in the month of April.
Gender : Female
Vocal Range : Unknown 
Related Characters : Kotone Erinoi
Age : 13
Genre : Any
Homepage: http://utauharukaori.tumblr.com/
Character Item: Unknown/Undecided
Creator: http://momentarytrip.tumblr.com/ / http://xxnyanxchanxx.deviantart.com/
Height : 5' 3"
Weight: Secret~
Voice source: Lilnyan Colette
Picture: http://xxnyanxchanxx.deviantart.com/art/UTAU-Haru-Kaori-360069172
Birthday: April 13
Likes: Sweets, fish, guitar, flowers, keyboard, tumblr, Gumi, IA, Aoki Lapis, drawing
Dislikes: Trolls, mindless hate,sour stuff, bugs
Media List: YT links below
Release Date: download below
Signature Song : None
Personality : Bubbly, and always energetic. Always eager to sing. Adores Gumi.
Voicebank download : http://www.mediafire.com/?ad97d0oq59e8quj

Songs sung : Kisaragi Attention - http://www.youtube.com/watch?v=yyYmfZylFto                        Elllie- http://www.youtube.com/watch?v=WhNhFWZetoU
SUPPLEMENTAL INFORMATION:
Hair color : Light pink
Ribbon/Flower: Ribbon = Pink, Flower = yellow
Eye color : Green
Headphones: None
Nationality/Race: American
USAGE CLAUSE:
The author gives full permission to use Haru Kaori's images, voice and personality in any kind of works as desired by the one depicting it, as long as it follows UTAU rules of usage, and proper credit is given.
This article is written and certified true and correct by the author of the character. The details seen here may be subject to change without prior notice
Community content is available under
CC-BY-SA
unless otherwise noted.