Hannah's Regret

(Japanese: ハンナ*リグレット)

NAME INTERPRETATION: 

GENDER
Dominant
VOICE RANGE
RELATED CHARACTERS

Onica's Curse (same power)

Evangeline's Credence (same power)

AGE
7 cycles
GENRE
HOMEPAGE
https://fractured-hope-co.weebly.com/hannahs-regret.html
WEIGHT
about 43.5 kg
CHARACTER ITEM
CREATOR
Leo Glenn, Sightseed
HEIGHT
175cm
VOICE SOURCE

Leo Glenn

PICTURE LINK LIST
DA
BIRTHDAY
-
LIKES
reading, feeling himself as a hero, damson
MEDIA LIST
n/a
RELEASE DATE
June 29, 2016
DISLIKES
crimes, when things goes bad, nightmares
SIGNATURE SONG
DEMO

PERSONALITY:
Personality: seems to be a selfish person, but at real he cares a lot about peaceful life of Blue part's citizens
Personal lore: he was very ancient, as the legend goes - he born from the explosion of a supernova, which is unknown until now. He can fly, fast and maneuverable. He was the nightmare of nightmares and justice in the dreams, before become that person that he is now. Also is a consul of blue part of Shado.
Download links
Usage Clause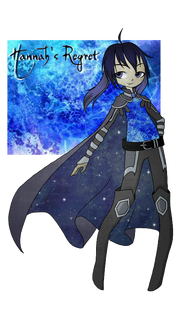 The author gives full permission to use Hannah's voice in any kind of work as desired by the one depicting it, as long as it follows UTAU rules of usage. Mature art work and music is allowed, though if levels of explicity and vulgarity surpass taste, the author retains the right to remove or kindly ask the artist to remove it. This article is written and certified true and correct by the author of the character. The details seen here may be subject to change without prior notice.
Please, credit Fractured hope co., if you use his voicebank.