HANA ASANE


朝音花-  あさねはな- Asane Hana

NAME INTERPRETATION:
花 (Hana; Flower)
朝音 (Asane; Morning Sound) Can be really roughly interpreted as "The Sound of a Morning Flower"

Type: Android
Newest bank: Azalea
GENDER
Female

LOGICAL VOICE RANGE

D#3~A5

RELATED CHARACTERS

Amano Kiseki(close friend)

Fromage(Friend)

Sora Denatsu (Fellow Growl Team Member and Close Friend)

Kimine Kiichigo (Close Friend)

Akiharu Kiichigo (Interest of Somesort, Victim)

AGE
16
GENRE

Pop, "Powerful" Ballads, Rock

HOMEPAGE
Morning Garden
WEIGHT

A Lot

CHARACTER ITEM

Rhubarb

CREATOR
Miramiee
HEIGHT 
About 158 cm
VOICE SOURCE
Miramiee
 RESAMPLERS 

Resampler (4+) Fresamp

BIRTHDAY
March27
LIKES

Rhubarbs, Motor Oil. Fancy Etiquette

MEDIA LIST
RELEASE DATE
January 14, 2013

DISLIKES

BS, Questions, Idiots
SIGNATURE SONG

An android that was constructed for unknown reasons and from unknown materials. Said to be part of an an experiment gone wrong that resulted in two seperate halves--the other "half" being organic. Has a habit of being far too rude, sassy. and violent for comfort but is obviously otherwise intrigued by fancy etiquette and mannerisms. Has the mouth of a sailor yet the composure of a lady and is "all talk no action."
Appearance and Other Information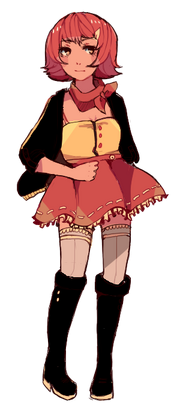 As of 2014, her official design is set to the item displayed on the right. This design is Azalea-specific but can be used as character art nonetheless.
Design Collabed with Rebellioustroll/Revo
Voice Download Links
There are different appends and acts soon to be or are available for future download. If you want to use a bank in progress, you should have to contact the creator in any means possible(most preferably, by her Skype account).
Below are voicebanks that are available for download:
Below are planned projects.They are listed in the order of which should be completed first:
Lucerne (Bipitch /CVVC)
Laurel (Sakebi-type with improved English sounds / VCV)
Song Covers
Below is a list of song covers descending from most recent to least recent. Covers created by other users using her should go here as well in correct order.https://www.youtube.com/watch?v=uElddYQb6gE
Hashire Raspberry Monster Jitter Doll Light Song Q Puzzle(redo) Palette 自傷無色 /Self-Inflicted Achromatic WAVEFILE Let's Go To Heaven I'm Sorry I'm Sorry -ERROR Puzzle (Acoustic) Sky High Double Lariat Sayonara Memories Nakimushi Kareshi Campanella Two Breaths Walking
Community content is available under
CC-BY-SA
unless otherwise noted.