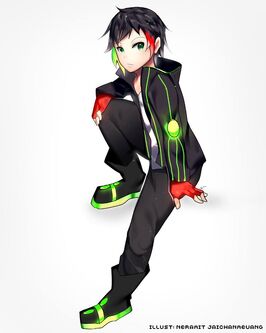 Information
Name: H.U.GEAS / ไทย: เอชยู กีอัส
Type: UTAUloid
Genre: -
Voice Range: C#2 - G4
Weight: 50 kg
Height: 162 cm
Age: 16
Gender: Male
Nationality: Thai-Japanese
Birthday: 3 January
Release date: 23 July 2015
Related Characters: Kasuren Neonne (Friend) , P.W.RAMI (Twins) , Jushine Tomato (Friend) ,Kasuren Neonlight (Friend)
Character Item: Plant pot
Voicer : DarK_PuppeT
Media , Home page: Sound Cloud , Youtube
Likes: Tomato , Kimchi , Natural/low sugar tea
Dislikes: Witch
Personality
He's made by the scientist who want to hunt the witches without Magical Girl power , so his energy is from Grief seeds ,he adapts the despair energy into the mechanical energy but unfortunately his system is not completely , He'll seek grief seeds to extend his life otherwise he will die.
Voicebanks
H.U.GEAS CV (DEMO) : Click!
[09/15/2015] H.U.GEAS CV (V1) : Click!
[07/05/2016] H.U.GEAS_WARM (CV): Click! WARM -> UNRUFFLED
[10/13/2016] H.U.GEAS_"UN"packed (UNRUFFLED+NORMAL) : Click!