MITE HAATONE

(Japanese: 心音見テ - ハートミテ– Haatone Mite)

NAME INTERPRETATION:
はーとね(Haatone; Heart Sound)
みて(Mite; Look)

TYPE: UTAUloid

MODEL: ∞ - Appear at her belt.

GENDER

Female

VOICE RANGE

C4

RELATED CHARACTERS

AGE

15

GENRE

UNKNOWN

HOMEPAGE

WEIGHT

50 kg

CHARACTER ITEM

Samsung Galaxy Tab

CREATOR

Miru-kun

HEIGHT

165 cm (+12 cm if included her ahoge)

VOICE SOURCE

Miru-kun

PICTURE LINK LIST

DeviantART, Tumblr

BIRTHDAY

July 5

LIKES

Anime, Manga, Games, Action Figures

MEDIA LIST

Youtube, SoundCloud

RELEASE DATE

June 5, 2013

DISLIKES

Called 'Short', Yaoi, Twincest

SIGNATURE SONG

PERSONALITY: She is a friendly girl but a bit Tsundere sometimes. She love singing, play Kuro's PSP and sleeping. She is an Otaku. 
Supplemental Information
Hair color: Honey Blonde
Eye color: Scarlet
Earphones: White round with red heart
Clothes: Black assymetrical t-shirt. Scarlet dress-looks like with high collar. Heart-shaped belt.
Pants: Black three-quarter pants
Nationality/Race: Indonesian/Japanese
Official Character Design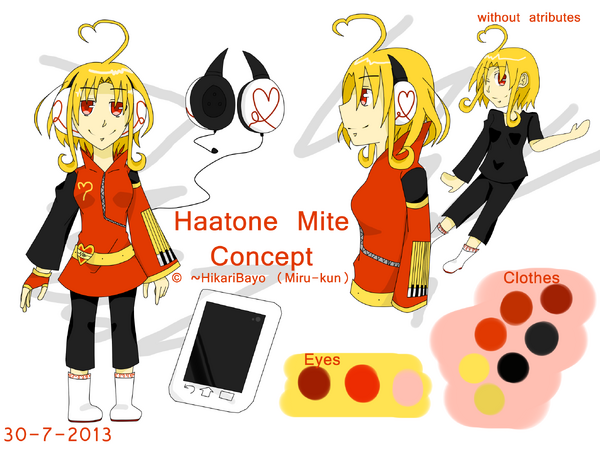 Voice Configuration
ACT 1 Download  – The Author still not sure if He set the oto.ini right or not
ACT 2 – N/A
Trivia
She is the first UTAU that the Author design three years ago.

Please don't change this page without the Author's permission. This article is written and certified true and correct by the author of the character. The details seen here may be subject to change without prior notice.