Character Design
Clothing: Bloody Teal Cat Hoodie, Black Pants,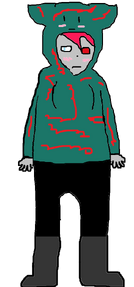 and Black Shoes/Boots  
Eye color: Light Blue on left, Red Eye on right
Headgear: none
Nationally/Race: American Robot Girl
Voice Configuation
File Encoding:                                                                                      

Romanized Filenames
OTO.ini Aliasing:

Romaji Aliasing (WARNING: DELETE OTO.INI SO GENTEI CAN SING! IF YOU DON'T, YOUR UTAU PROJECT WILL CRASH!)
Voicebank Configured on:

UTAU PC
Supported Languages:
NOTE: Her voices sound very different from one another, as her creator decided to make this voicebank series by mixing files! She decided she could get away with it via futuristic robot, and it works!
She is encoded in both romaji and hiragana, Romaji Voicebank Download: http://www.mediafire.com/download/k5b134watwzrx4b/Gentai+Boisu.zip
Hiragana Download: [1]
Undertale-Type: Here
Community content is available under
CC-BY-SA
unless otherwise noted.