Fumie Ishikawa

(Japanese: 石川'ふみえ)

NAME INTERPRETATION: ふみえ - 'historical painting' 石川 - 'rock river'
NICKNAMES: Fufu, Gremlin/Goblin
TYPE: E-Poid
MODEL: 02
GENDER
Female
VOICE RANGE
G3~C#5
RELATED CHARACTERS
ML (Friend/Crush)

0x0 (Friend/Crush)

Valarie(Friend)

Masae Ishikawa (Mother)

Sakae Ishikawa (Little Sister)

Gin Chiuta(Frienemy)

AGE

19

GENRE
All
HOMEPAGE
Tumblr
WEIGHT
N/A
CHARACTER ITEM
Brownie
CREATOR
Rabu
HEIGHT
4'7ft
VOICE SOURCE
Rabu
PICTURE LINK LIST
BIRTHDAY

March

9th

LIKES

Brownies, Her friends, Her mom, Being loved, Being taken seriously, Cool places, Spring, Winter

MEDIA LIST
Youtube
RELEASE DATE
March 16th, 2017
DISLIKES

Spicy foods, Being made fun of, Being patronized, Hot places, Summer, Anyone hitting on her mom

SIGNATURE SONG
NONE

PERSONALITY:

Fumie is a tired little android who hoards brownies. She can be hard to talk to because she tends to make self-deprecating or bad jokes. She may seem like a loner at first, but in reality, she craves attention and friendship (However, she doesn't know how to handle kindness).

Fumie's pretty much all talk and no bite, making others think that she's either a coward or an angry little robot (they're not entirely wrong either). She tends to get really bossy and clingy to everyone she meets, but does have a sweeter side to her. It's harder to get that out of her, but she will actually be nice to someone she would call a friend.

She also gets easily infatuated by others, sometimes forming into a crush. It doesn't always happen, since Fumie's known for her crushes to fade quickly. Her only crushes that seem to stick with her are on her two friends, ML and 0x0. Though, this won't stop her from finding other singing partners attractive, nor will it stop her infatuation with them.

She's also a huge mama's girl, meaning that she spends a lot of time with her mom, Masae. She is often very overprotective of her and gets easily upset when others try to flirt with her. Often times, Masae would have to stop her before she makes a fool of herself, but understands that her daughter has good intentions.

Unfortunately, Fumie has a low opinion of herself, but she tries to ignore her hidden feelings. There are obvious signs that she's been dealing with a self-loathing mindset, like her worrisome jokes and inability to get close with someone. She convinced herself that she would never be truly liked and tries to learn to deal with it.
Supplemental Information
Hair color: Pastel Pink and Dark Brown
Eye color: Hot Pink
Outfit: Various shades of blue. Always wears a turtleneck, along with blue/white earrings in her designs. Her 'gloves' and 'shoes' are actually built into her body and they are detachable.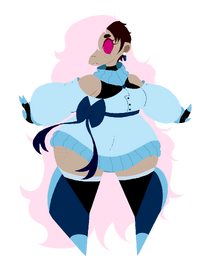 In her normal design, she wears a baby blue turtleneck mini-dress with exposed shoulders. She has a large dark blue bow on the left side of her torso. She wears a black one-piece undershirt that covers her chest for the most part. Her hair is a side undercut, dark brown on the right while pastel pink on the left. The left side of her hair reaches to the floor.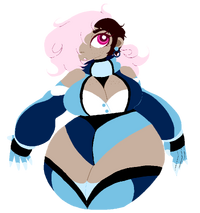 In her POWER Append design, she only wears a one piece outfit, having more skin exposed. She still has the poofy sleeves and the turtleneck aspect in her design, but she doesn't wear a dress. Her hair is shorter and curlier, but is still a side undercut.
Race: Biracial (2/3 Japanese and 1/3 African-American)
Info: Fumie doesn't have feet, meaning that she balances on her pointed tips.
Link To Voice Bank
Fumie Ishikawa is only a CV UTAUloid. There are no plans for a VCV voicebank yet.
(Reminder: It's recommended that all of Fumie's voice banks should have g-15 in her rendering options if you want to get her 'cutesy' stage voice.)
SOFT Append (Updated with Images of her SOFT design bust)
Terms and Conditions
Do NOT use Fumie for commerical purposes
Do NOT claim Fumie's design/voicebanks as your own
I would prefer it if you didn't have her sing songs about abuse (Especially parental abuse)
I would also prefer it if you didn't draw genderbend art for Fumie, since it makes me very uncomfortable.
Send me a message on either Tumblr or Youtube if you use her in one of your covers! I'd love to hear them.
Community content is available under
CC-BY-SA
unless otherwise noted.