FELLY KONE


(Japanese: 子音フェッリー - こねふぇっりー - Kone Felly)

NAME INTERPRETATION:
子音 (Kone; Children Sound)
フェッリー (Felly) - pun from 'berry'


TYPE: DV-Loid
MODEL: DV-05 - (Imprinted on his hat)
GENDER
Male
VOICE RANGE
C4
RELATED CHARACTERS
AGE
10
GENRE
UNKNOWN
HOMEPAGE
DV-Loid's BLOG
WEIGHT
CHARACTER ITEM
Dolphin Plushie, Berry, Popsicle
CREATOR
kairi/ taku/ Hiwatari Kairi




HEIGHT
VOICE SOURCE
Creator's Little Brother
PICTURE LINK LIST
CONCEPT ART, DEVIANT ARTGOOGLE IMAGE
BIRTHDAY
January 1
LIKES
Dolphins, Any kinds of berry, Fishing, Fish
MEDIA LIST
RELEASE DATE
July 2011 (finish recording)
DISLIKES
Cockroach
SIGNATURE SONG
PERSONALITY: The youngest in his 'family'. Hyper active and always cheerful. Have a big curiousity. Likes studying about fish that lead him to like fishing, but he will release the fish again later. He doesn't want to eat fish because he considers any fish as his 'friends'.
Supplemental Information
Hair color: Yellow
Eye color: Green
Clothes: Light-blue longarm seifuku with square blue collar
Pant: Blue long pant with square light-blue strip on each side
Nationality/Race: Indonesian-Japanese

see concept art for more reference
Voice Configuration
His voicebank is a private voicebank because of some reasons but if you want to make him sing with other utau, just note the author
Voice Sample
Gake no Ue no Ponyo http://twtio.com/caj
Spiral Game (Rin's Part) http://soundcloud.com/dyahkairi/spiral-game-dvloid
Genderbender
N/A
Concept Art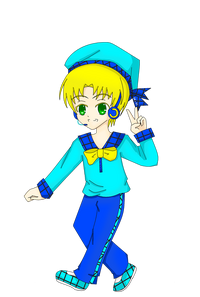 This article is written and certified true and correct by the author of the character. The details seen here may be subject to change without prior notice.
Community content is available under
CC-BY-SA
unless otherwise noted.