ERIREIRA LUKE


(Japanese: エリレイラ・ルーク - えりれいら・るーく)

NAME INTERPRETATION:
エリレイラ・ルーク (Erireira Luke; Erireira Ruuku)
TYPE: RLoids - (or RikaLoids)
MODEL: R04 - (4th product)
GENDER
Female
VOICE RANGE
C#3-C#5 (Best around G#4)
RELATED CHARACTERS
RLoids (MILLYA, Rikaga Mizuto, etc)
Yuna Kion (Friend)
AGE
16
GENRE
Any
HOMEPAGE
BLOG
WEIGHT
115 lbs (52 kg) (Don't mention this to her!)
CHARACTER ITEM
Motorbike
CREATOR
りかが/Rikaga
HEIGHT
5'3" feet (160 cm)
VOICE SOURCE
りかが/Rikaga
PICTURE LINK LIST
CONCEPT ART , PIXIV, DEVIANT ART,
BIRTHDAY
March 18, 1995
LIKES
Travelling with motorbike
MEDIA LIST
NICO NICO DOUGA, YOUTUBE
RELEASE DATE
August 1, 2010
DISLIKES
Kiss-ups (Signature dislike)
SIGNATURE SONG
PERSONALITY: Erireira is a carefree UTAU, living with her own pace. She had phobia to boys. She have a motorcycle with a brown color scheme, she likes to travel riding it as well.
Supplemental Information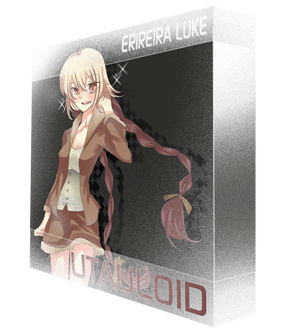 Hair color: Fluorescent yellow or blonde (Top), red or maroon (Down)
Headgear: noneEye color: Red

Earphones: None
Dress: See concept art for details.
Nationality/Race: Isn't mentioned at all.

Voice Configuration
Erireira is known to have the best quality among all the RLoids, too bad her vowels aren't completed with extra vowels such as bya-byu-bye-byo.
But her newest ACT is available for download.
DOWNLOAD HERE

Please note that she's encoded in romaji, so most UTAU user with no Japanese locale can read her.*
Oto.ini tuned
100+ vowels
Notable Works
・World is Mine
・Mousou Sketch
・ACUTE



This article is written and certified true and correct by the author of the character, Rikaga. The details seen here may be subject to change without prior notice.
Community content is available under
CC-BY-SA
unless otherwise noted.