"А я ведь многого не хотела, мне всего-то..."
—"Там, за пределами банки", Вдох-выдох 2. Петли.
Emmanuelle BluR is a voicebank for the UTAU program.
Profile
Etymology details
Emmanuelle BluR: BluR - Blue&Red. Emmanuelle - ...
HC7: H - HClO-P's, C - cancelled status, 7 - number of UTAU in line.
Character details
Description: In the combined form, they represent a human with white hair, the ends of which are colored red from the side of Red and blue from the side of Blu, with the same heterochromia.
Outfit: Respectively, dressed in something that looks like a combined dress and a suit with half a jacket, vest and trousers.
Likes: Blu - oil paint, detectives
Red - licorice candy, almond cakes, music, novels in paperback
Dislikes: mirrors
Relationships
Voicebank details
Warning: You should choose Red or Blu part of voicebank via prefix.map.
Voicebank
Reclist
Range
Description
DL
Act 1
Japanese CV
A2-C5
"Released on February 11, 2016. Discontinued."
no DL
[Mirage]
Japanese CV
A2-C5
"DL in archive with VCV."
no DL
SYNTH
Japanese VCV 8mora
A2-C5
"Converted from [Mirage]."
MEGA
mediafire
Voice details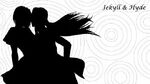 Input - romaji encoded and romaji&hiragana aliased
System - Microsoft Windows
Voice samples
Terms of Use
All the provisions below shall be applied to the voicebank:
R-18 Content Allowed? Permission Not Required
Commercial Use of Voicebank Allowed? Permission Required
Commercial Use of Character Allowed? Permission Required
Do these terms apply to derivative characters/voices? Yes, but derivatives must be created with permission
Gallery
Trivia