(Japanese: 

つぽ えむ

 - 

Tsupo Emu

)
NAME INTERPRETATION: えむ (Em) - Derived from her creators first name. つぽ (Tsupo) - Origin unknown.
TYPE: Onchoid MODEL: 0001 (references the fact that she is the first Onchoid.)
Gender
Female
Voice Range
Related Characters
Annoying friend:

Mikio Aino (Mikio Aino's Wiki Page)

Gender Bend:

Emmett Tsupo (Emmet Tsupo's Wiki Page)

Age
17
Genre
Any
Homepage
Currently None
Weight

165 lbs (due to muscle mass)

Character Item
Black Cherry
Creator
Em-the-Untamed (Emma Riedel)
Hight
5 ft 7 in
Voice Source
Emma Riedel
Picture Link List
Birthday
April 1, 2000 (Birth date not intended to copy Kasane Teto. The creator has personal reasons for choosing this date.)
Likes
Cats, horror movies, and working alone.
Media List
Release Date
April 1, 2018
Dislikes
Puns, baby feet, and birds.
Signature Songs
None
Personality:  Em Tsupo is not someone you want on your bad side. She is a very strong, confident, muscular young woman, with a low tolerance for people who do her wrong. Tsupo would be classified as a bit antisocial, yet by no means shy. While she has a select few friends (whom she is fiercely protective over) she prefers to be alone. As she would put it, "The only person I put my full trust in is me."
Her masculine appearance, bored expression, and 'don't care' attitude can make her hard to approach. But one you get to know her, she becomes less scary and you learn that her sarcasm is just her way of saying "hello."
Some personal info: She is trained in many forms of martial arts. She hates that her birthday is on April 1st (April Fools Day), and is likely to punch you if you pull a prank on her.
Supplemental Information
Hair color:
 Brown. Short and parted at the middle.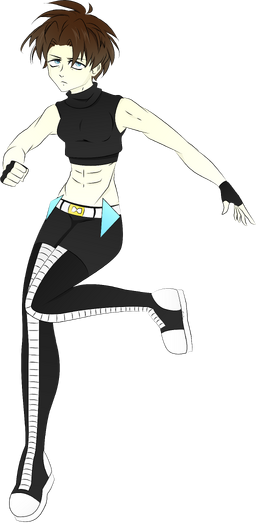 Headgear: Does not usually wear head gear.

Eye color: Icy blue / grey.

Headphones: Sleek, black triangular shaped headphones that rest around the back of her head instead of over her head like traditional headphones.

Dress: She is almost always wearing a black, cropped, sleeveless turtleneck sweater. As for her bottom, mini skirts aren't her thing. Instead, she wears low cut black pants with blue folds over where her pockets would be. Her white tipped boots are laced all the way to her upper thighs. She also likes to wear her black finger-less gloves.

Nationality/Race: American, Caucasian

Quote: "This world doesn't owe you a single thing, so don't sit around waiting for others to save you. If you want to survive, you have to help yourself."
Voice Configuration
Em has three voice banks available to the public as of now.
Japanese CVC, encoded in kana
Japanese POWER, encoded in kana
English VCCV, encoded in roman characters
Em Tsupo is available for download upon request to the creater. Contact her at emtheuntamed@gmail.com to request the voice bank you want. Before receiving the voice bank, you will need to fill out a short questionnaire.

Tutorial for requesting Em Tsupo's voice banks
Usage Clause
1. Do not redistribute this bank.
2. Do not claim ownership of this character and her voicebank.
3. Do not create songs demeaning to any ethnicity or race.
4. Do not violate any rights or copyright policies using this character.
5. Please contact the creator if you wish to use her for commercial use including her voicebank and/or character. Using this character for commercial use is forbidden without specific permission from the creator.
6. Please contact the creator if you wish to create a derivative character based off of this character's voice or character design. Creating derivatives for this character or her voice is forbidden without specific permission from the creator.
All copyright concerning this voice and character belongs to Emma Riedel (Em-the-Untamed)
Creator Contact Email: emtheuntamed@gmail.com
Onchoid
Onchoid is a series of voices developed by Em-the-Untamed. From the Japanese word "Oncho (音調)" meaning harmony, melody, rhythm, tone.