Ednarg Anaira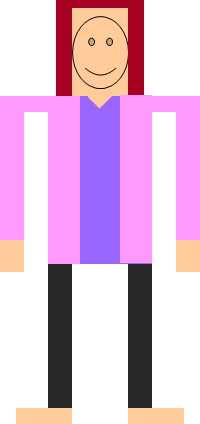 | | |
| --- | --- |
| Name: | Ednarg Anaira |
| Name Interpretation: | Big holy one |
Visual Representation:

 

This is a character modeled after her voicer in Kumanian Anime.  Kumanian Anime is a relatively new style of art, beginning in the year of 2010, first featured in the original three-dimensional Anniemon Battle games for the iKuma SARI, a Kumanian game system that was first marketed in the year of Two-Thousand-And-Eight.

Sorry, but none are available, except for the one shown to the left.

Voicer's Webpage:

Type:

Tribaloid

UTAUloid Version Number:

One point zero

UTAUloid Version Number In Standard English:

1.0

Known Languages:

English, Spanish, and Japanese

Character Item:

Scream mask

Height:

Five feet and one inch tall

Weight:

One hundred and four pounds – fourty seven kilograms

Age:

Twenty one years of age

Date Of Birth:

Saturday June Twenty Sixth Of Nineteen Ninety Three

Description:

Ednarg Anaira is an exercise loving girl who loves to stay fit and eat healthily.  She enjoys working out on the elliptical, as well as dancing.  She thinks that doing dance workouts in five inch heals is ideal because it helps burn more calories.
Related Characters:

None

Voice Configuration:

Ednarg Anaira is made to sing like a pop slash pop rock singer.  She can handle vibrato rather nicely, and she is known by men to have an attractive sounding voice, no matter what the pitch or key.

Download Link:

This information is currently unavailable, for Ednarg Anaira's voice bank is not quite yet available.  Her voice is being tested for glitches and drops.  So far, there aren't any, and she sounds totally perfect.  This page will be updated when it HAS come out.

Trivia:

Although her name, "Ednarg Anaira" is quite literally that of American pop star "Ariana Grande", but backwards; the former has no relationship with or connection to the latter.

Ednarg Anaira is never referred to as just "Ednarg" or just "Anaira".

"Ednarg Anaira" should always be pronounced in spanish phonics, with slightly prolonged trills on the r's.

Ednarg Anaira has a crush named James Johnson", whose voice bank is also being tested for issues before his release.  He is similarly doing fine.

Ednarg Anaira's voice bank's samples have audience cheering sounds in them when opened in a sound editor, but in UTAU, you cannot hear them at all, which is a good thing, considering that those crowd effects could have seriously thrown off her pitch control during her frequency map generation process.

She has a vocal range that goes from C3 to E7.