| | |
| --- | --- |
| |                     E.B.I |

NAME INTERPRETATION:
Eclectic Biomimetic Iteration prototype #4

GENDER

Genderless

(can be refered to as he, she or it)

VOICE RANGE
C4 - C6
BIRTHDATE

August 4th

(date of its first test run)

AGE
2
RELEASE DATE
 TBA
HOMEPAGE
angrychickenstrip.deviantart.com
WEIGHT
40 lbs
CHARACTER ITEM

Suzanna (mp3)

CREATOR
Abjora
HEIGHT
(top of head)2ft (including ears) 2'4
LIKES
friends, making others happy, doing a good job, doing what it is told, cute things, numbers, biotic life, "learning", the "off air" channel on TV, the "mosquito" noise, singing (sounds like an auto-tuned 'ahhh' sound), patting and petting things
DISLIKES
water

HISTORY: EBI was the forth prototype for an experimental android project, to create a robot with 'humanlike atributes'. Its purpose was for the creators to simply know where they went right and where the went wrong before they created the final version. Soon the project was canceled and EBI was sent off to a scrap metal company. EBI registered that its creators did not want it anymore and escaped the scrap place. Along the way, EBI finds a plain old MP3 player in the scrap yard. The only song on it was the old folk song "Oh Suzanna", so EBI assumed that that was its name. Suzanna has been with EBI ever since.


PERSONALITY: EBI is quiet, sweet and obedient. It is loyal to its friends and does what it is told. It likes to make friends biotic creatures as well as other technology.
Supplemental Information
Hair color: Lime Green
Face: Monitor
Outer Shell: Metalic silver (made out of a stong yet flexible metal alloy)
Outfit: EBI has many outfits, though is mostly seen in its binary top and shorts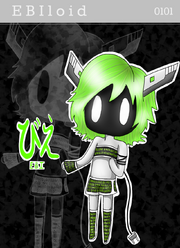 Download
TBA
Community content is available under
CC-BY-SA
unless otherwise noted.