Drayo Ryuune profile picture

 

DRAYO RYUUNE


(Japanese: 竜音ドラヨ - りゅうねどらよ - Ryuune Dorayo)
 

Drayo Ryuune model number rune/logo

NAME INTERPRETATION:
竜音 (Ryuune; Dragon Sound)
He's an non-human UTAUloid known as anthropomorphed dragon species called Drax..
TYPE: UTAUloid / FURloid / ANIMAloid'
MODEL: 77 '(created of his own bithday)
GENDER
Male
VOICE RANGE
C2 - C5 (120 bpm)
RELATED CHARACTERS
Lloyd Ryune (Cousin)
AGE
23
GENRE
POP
HOMEPAGE
CLASIFIED
WEIGHT
196 lbs (89 kg)
CHARACTER ITEM
Sword
CREATOR
SPITTORBONE
HEIGHT
6,6' (200 cm)
VOICE SOURCE
SPITTORBONE
PICTURE LINK LIST
Character sheet
BIRTHDAY
July 27, 1987
LIKES
Friends,...
MEDIA LIST
YOUTUBE
RELEASE DATE
March 11, 2010
DISLIKES
Bad People,...
SIGNATURE SONG
BPM(cover)
PERSONALITY: Friendly, helpful, wanting to make friends & become a bit popular.
Supplemental Information
Hair: NONE
Headgear: Headphones
Eye color: Dark green
Earphones: Simple grey with a microphone
Dress: simple self design (3 versions)
Nationality/Race: Czech/Drax
His logo 77 is created from his birthday numbers as oposited 7's. Drax is an anthropomorphic Red Dragon evolved on the planet Riegs his home world, born in a village called Ignis.
MikuMikuDance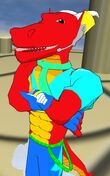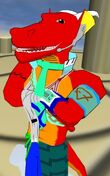 Drayo Ryuune has his appearance in MMD from his creator Drayo (aka Spittorbone at Youtube). The creator used for modeling a software called Metasequoia. Link Updated.


MikuMikuDance Model is available at Mediafire, an alternate version is available too at Mediafire.

Using of these models is free as long the credits are shown.
Voice configuration
Voice Library encoded in both romaji & hiragana for proper using, best singing in japanese, able to sing other languages (english library in progress). Link Updated.
Act 1 released on Mediafire
Act 2 released on Mediafire (smoother sound)
Act 3 WIP + Extension Library Add
Usage
Library using is free in rights of the UTAU politicy rules of using.
Warn: R-18 stuff is acceptable, straight Doujin is prohibited (exception can be granted by contacting).