DEON


(Japanese: ディオン - Deon)

NAME INTERPRETATION:
His name is based from the Greek God of Wine, which he didn't believe in. However, he does like wine. Also his name in katakana as in "ディオン" but pronounced it as "dee-on".

ALIAS: Sir Deon
REAL NAME: Ryuusuke Briggs
(Japanese: ブリッグス隆介 - ブリッグスりゅうすけ - Buriggusu Ryuusuke)
TYPE: UTAUloid
MODEL: Ω - Omega symbol. Stamped on his badges. The Omega symbol pertains to the end or ultimate of an element, Alpha being its opposite.

GENDER
Male
VOICE RANGE
Around C4
RELATED CHARACTERS

Hachi Makune (Sudden girlfriend)
Seun Kanagirikowane (charge as caretaker)
Seon Houka (charge as caretaker)
Aline Enbukyoku (Mother in past)
Gakupo Kamui (Idol)
Wakana Ayane (His adopted mentor/ "DADDY")
Mugen (Artificial twin/ enemy)
Mathieu Rosaire (Best Friend and Wine Drinking Buddy)

AGE
20's
GENRE
Any
HOMEPAGE
ReVoiceLoids
WEIGHT
169 lbs (77 kg)
CHARACTER ITEM
Wine
CREATOR
AYA
HEIGHT / MEASUREMENTS
5'9" feet (177 cm)
VOICE SOURCE
AYA
PICTURE LINK LIST
CONCEPT ART, PIAPRO, PIXIV, DEVIANT ART, GOOGLE IMAGE, PHOTOBUCKET
BIRTHDAY
December 20, 20XX.
LIKES
Any wine, taking care of Seon and Seun, sleep, narcissism to himself, Hachi's hairbuns
MEDIA LIST
NICO NICO DOUGA, YOUTUBE
RELEASE DATE
1 Febuary 20XX
DISLIKES
Troublemakers, rain, nightmare
SIGNATURE SONG
UNKNOWN

PERSONALITY: Deon are much of a nerd called by everyone who knows him, as he was very intellectual and genius but also he may be happens as the clumsy one. He love any wines. He getting himself more mature and out-of-hand sometimes. Rather being calm, he instead keeping dark secret and never be revealing out everything throughout the time. Able to see future, present and past but remain unknown on how he would see it.
Supplement information
Hair color: Royal Purple 
Eye color: Deep sky blue
Jacket: Purple(old), Black(new)
Earphones: Black headset with attachment of visor
Clothing: White shirt and black pants
Catchphrase: Call me Deon or Sir Deon!
Design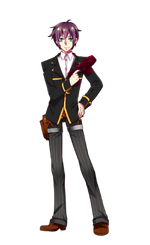 Voice Configuration
His voice is in Kana; Western users must convert it to Romaji. His voice only be range between C4-C3.
Download: http://www.mediafire.com/?yyfldj5llhw
http://www.mediafire.com/?6pd9rzeil650qjc
ACT3
http://www.mediafire.com/?1jhjayns8jpjdy4
Some details are based on existing information. The details seen here may be subject to change without prior notice.