DACHI SATO


(Japanese: さと 立ち)

NAME INTERPRETATION:
none (da-chi SA-to)
TYPE: Smooloid
MODEL: SM-02
GENDER
Male
VOICE RANGE
C3~C4
RELATED CHARACTERS

Mizuoto Kiaru  - Close friends, friends with "benefits"

Minori Ichiga - Close friends, fellow Smooloid

AGE
15
GENRE
Any
HOMEPAGE
NONE
WEIGHT
126 lbs (57 kg)
CHARACTER ITEM
Cherry
CREATOR
Smoothiethesquirrel
HEIGHT
5'7" (170 cm)
VOICE SOURCE
Smoothiethesquirrel
PICTURE LINK LIST
CONCEPT ART DEVIANT ART, 
BIRTHDAY
June 27, 1997
LIKES
Blood(secretly)
MEDIA LIST
NICO NICO DOUGA, YOUTUBE
RELEASE DATE
June 27, 2012 (Act 1 was out)
DISLIKES
Talking in big crowds, people who try to see what's under his eyepatch
SIGNATURE SONG
DEBUTE SONG: LINK
PERSONALITY: He is a quiet and shy person, though he'd never admit that he was shy. He doesn't like to talk, unless it's one-on-one. Somewhat of a tease. 
Supplemental Information
Hair color:
 Black with red highlights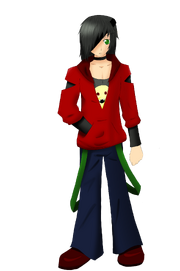 Headgear: Black eyepatch across right eye
Eye color: Green
Earphones: Act 1: Green and grey headphones that loop behind the head. 
Act 2&3: None

Dress/Outfit: Act 1: Grey sweatshirt with devil smiley face print on it. Green striped long-sleeve shirt underneath. Green straps extending from under shirt. Blue pants and green shoes. 
Act 2: Blue jacket with grey shirt with devil smiley underneath. Striped sleeves. Blue loop clipped to pants on the right side. Blue pants and shoes. Hair is tied up in a ponytail with a blue band.
Act 3: Back choker. Red v-neck hoodie with grey demon smiley shirt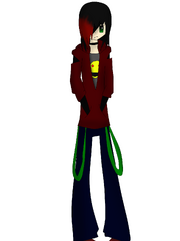 underneath. Black skin-tight sleeves. Blue pants with green straps clipped to both sides of his pants. Dark red shoes. Hair is down. )
Nationality/Race: American/Vampire
Voice Configuration
This article is written and certified true and correct by the author of the character. The details seen here may be subject to change without prior notice.
-- NOTE: This article was created by Lunamageice. Smoothie thanks him for doing this. c:
Voicebank Releases
ACT 1: http://www.mediafire.com/?06cs95wrubscpcw
ACT 2: (Not Released)
ACT 3: https://sta.sh/029sdp7xortf
Community content is available under
CC-BY-SA
unless otherwise noted.