CopperCross (コッペルクロッス) is a vocalist for the UTAU and OpenUtau programs.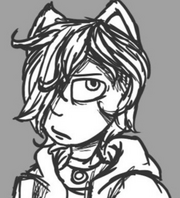 History
TBAAAA
Concept
While CopperCross has a personality and canon information given to him by his creator, it is not mandatory that you make content following this information. He may be depicted in any way regardless of his canon information, as long as it follows the UTAU software terms of use and CopperCross' terms of use.
A quiet, cold, and rough guy who's secretly a huge softy.
ひそかに大きな柔らかいおとなしい男。
CopperCross has DID (Dissociative Identity Disorder) and C-PTSD (Complex Post-Traumatic Stress Disorder).
Animal Motif: Ginger long-haired cat
Item - Dumbbell chew toy
Likes - Ice cream, catnip, bullying short people, alone-time
Dislikes - Chocolate, social interaction, the word "moist", dogs
Etymology
CopperCross (コッペルクロッス) is a name Dav-P made up, inspired by the UTAULOID SilverCross' name. Copper is an element on the periodic table often also associated with the element of Silver.
Character
JPN
ENG

名前: コッペルクロッス
性別: 雄
代名詞: He/Him
年齢: 19
重量: 79kg (175lbs)
身長: 196cm (6'5")
性的指向: 両性
種: 猫雑種
干支: ヴァルゴ
生年月日: 9月14日

Name: CopperCross
Gender: Cisgender Male
Pronouns: He/Him
Age: 19
Weight: 79kg (175lbs)
Height: 196cm (6'5")
Sexuality: Bisexual, Biromantic
Species: Feline-Human Hybrid
Zodiac: Virgo
Birthday: September 14
Appearance
Hair color - Dark brown fade to orange
Eye color - Right: Appears red due to lack of pigment in the iris, Left: Mix of orange and brown
Outfit - Slightly oversized black and orange zipper hoodie, cream-coloured tank-top, black leather pants OR black skinny jeans, black shoes with orange accents, black collar with a gold bell, snake bites (lip rings), earring on left ear
Additional feature(s) - Dark brown cat ears, brown and orange cat tail, fangs, black claws, black markings on his cheeks
Relations
Gallery
Terms of Use
R-18 Content Allowed? Permission Not Required
Commercial Use of Voicebank Allowed? Permission Not Required
Commercial Use of Character Allowed? Permission Required
Do these terms apply to derivative characters/voices? Yes, even to derivatives created without permission
Terms of use? Click here to view the full terms of use
This page is made and managed soley by Dav-P. Do not edit this page.
Product Information
Citations/References​​​​​​
This article is written and certified true and correct by the author of the character. The details seen here may be subject to change without prior notice.