CLIODHNA FAIR


(Japanese: クリオデナフェール - くりおでなふぇーる)

NAME INTERPRETATION:
Cliodhna - [Of Irish origin] In some Irish mythology, Cliodhna was a goddess of love and beauty

Fair - [Of English Origin] "Handsome", "Beautiful"

TYPE: NONE
MODEL: NONE
GENDER
Male
VOICE RANGE
F2 - C5
RELATED CHARACTERS
AGE
25
GENRE
Ambient, folk, pop
HOMEPAGE
[N/A]
WEIGHT
145 lbs (66 kg)
CHARACTER ITEM
[N/A]
CREATOR
Greendoor
HEIGHT
5'10" (178 cm)
VOICE SOURCE
Greendoor (ACT1)

Machine (ACT2)

PICTURE LINK LIST
deviantART
BIRTHDAY
April 14
LIKES
Himself, obedient people, expensive clothing and jewelry, wine, attractive men
MEDIA LIST
[N/A]
RELEASE DATE
September 5, 2014
DISLIKES
Bad fashion, ugly people, stupid people, being treated with disrespect
SIGNATURE SONG
[N/A]
PERSONALITY: Extremely arrogant and pretentious, Clio loves no man more than himself. He believes that others ought to worship the ground he walks on, and hell hath no fury like a diva scorned if they should choose to do anything but. Preferring to be addressed with titles such as "Your Highness," he greatly enjoys ordering others around, furthered only by his sadistic tendencies. He prefers only the company of the most beautiful- but not too beautiful, lest he become envious.
Supplemental Information
Hair color: Ginger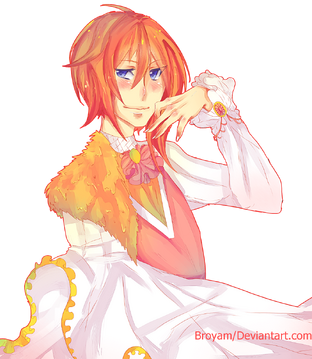 Headgear: [N/A] (Although at times he is portrayed as wearing a crown)
Eye color: Blue
Earphones: [N/A]
Dress/Outfit: Clio is normally only portrayed as wearing the finest of clothing, and while his outfit varies, it is almost always horrendously gaudy.
Others: [N/A]
Nationality/Race: Irish/Human

Voice Configuration
Voice Description: Calm, fluid, tenor
Recommended Resampler: TIPS, fresamp
Recommended Flags: BRE0C10H10P90Y0g+9
Pros- Has a charming tone quality, and does well in both upper and lower ranges.
Cons- Some minor frq. mapping errors.
ACT2[CV] - This bank is currently in the process of being otod and revised. [SAMPLE]
Voice Description: Bold, strong, tenor
Recommended Resampler: [TBA]
Recommended Flags: [TBA]
Pros- [TBA]
Cons- [TBA]
This article is written and certified true and correct based on verifiable information of the character. The details seen here may be subject to change without prior notice.