Rei Chrisilla

(Japanese: クリシラレイ –Kurishira Rei)

NAME INTERPRETATION:

クリシラ (Chrisilla; taken from "Chryssila" in Latin means gold hair)

TYPE: RCLoid - RimoConLoid
MODEL: RC-CR09 - (RC means RimoConLoid, show by her Open Button on her belt. Number 09 is her fav number. CR is her name)

GENDER
Female
VOICE RANGE
F4~A5
RELATED CHARACTERS
(Please see character relation below!)
AGE

13

GENRE
Cheerful, Rock, and many more
HOMEPAGE

Renyahloid Blog Rimoconloid Offical Site

WEIGHT
56 kg
CHARACTER ITEM
Cookies
CREATOR
HEIGHT / MEASUREMENTS
158 cm
VOICE SOURCE
risa renyah
PICTURE LINK LIST
deviantART
BIRTHDAY
August 23
LIKES
Sweet Foods, friends, dolls, blue color, colourful things, playing and singing
MEDIA LIST
Youtube,
RELEASE DATE
January 21, 2012
DISLIKES
Someone who steals her cookies, sorrowful thing
SIGNATURE SONG
teyutte

PERSONALITY: Rei is a very childish and lovely girl. She easy to adore anything. Some people don't like her child-like personality because she can be very annoying and noisy. She loves making friends with everyone. Everything is special to her.

Cookies are her meal everyday. She has a lot of cookies and some of her friends like to steal it. she is kinda stingy to share it, except she want to.
Character Design
Hair color: Tied Blonde Hair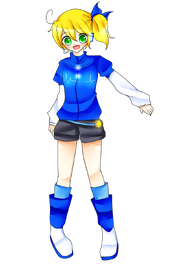 with a blue ribbon Eye color: Green
Shirt: Blue shirt with glowing waves and button on chest,
Arm : White arm sleeves
Bottom: Almost Black+Blueish short, a belt with "open button" on the left side.
Feet :  Blue-White boots.
Earphones: Blue-White Headsets
Nationality: Japanesse - Indonesia
Fav Quote : "Kukiii~!!!" "nee let's play shiritori or hide and seek!"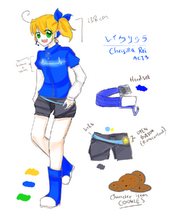 Voice Configuration
Chrisilla Rei CV ACT3 – download here
Append POWER CV -- not released yet (Listen the demo here)
Character Relation

RIMOCONLOID

EMPAT SERANGKAI
Facts
She is kinda fat for her age
She is the first UTAU in the Renyahloid Project
Everything looks cute and nice for her. Always positive thinking
She loves sweet foods very much
She didn't realize that she is 13 already.
Rei is very very innocent
Her voice is NOT FROM PITCHING
Usage Clause
1. Do not redistribute. Use the download link from the author.
2. Do not claim ownership of this character and her voicebank.
3. Do not create songs in any way that include any slander, racism, or anything that infringes the rights of a person or group of people.
4. Do not violate any rights or copyright policies using this character.
5. Please DO NOT steal her voicebank.
6. She is not for sale. SHE IS FREE.
7. Feel free to fix her oto.ini but tell the author.
This article is written and certified true and correct by the author of the character. The details seen here may be subject to change without prior notice.
Community content is available under
CC-BY-SA
unless otherwise noted.