CAIN ROKUNE


(Japanese: 六音ケイン - ろくねケイン - Rokune Cain)

NAME INTERPRETATION:
六音 (Rokune; Six Sound) - taken from his model number
ケイン (Cain) - no specific meaning
Not related in any way to Zon Rokune

TYPE: DV-Loid
MODEL: DV-06 - (Imprinted on his jacket)
GENDER
Male
VOICE RANGE
A3
RELATED CHARACTERS

Yami Tsubasane (Sibling)


Kira Tsubasane (Sibling)


Miu Nozomine (Sibling)


Katou Nozomine (Sibling)


Felly Kone (Sibling)


REIKA (Sibling)

AGE
20
GENRE
UNKNOWN
HOMEPAGE
DV-Loid's BLOG
WEIGHT
70 kg
CHARACTER ITEM
-
CREATOR
kairi /taku /Hiwatari Kairi
HEIGHT
180 cm
VOICE SOURCE
kairi /taku /Hiwatari Kairi
PICTURE LINK LIST
BIRTHDAY
April 10, 19xx
LIKES
His laptop, Basketball, Rollerskate, Multi-tasking job
MEDIA LIST
YOUTUBE
RELEASE DATE
June 17, 2011 (first video)
DISLIKES
People badmouthing his family, Pervert, Lolicon, Someone 'hitting' his sisters
SIGNATURE SONG
Yowamushi Montblanc
PERSONALITY: Cain is an easy going type but can be serious when situation needed. Being the oldest in DV-Loid member, made him feel responsible to take care his younger 'siblings'. Kinda protective to his sisters, especially Miu. Sometimes he likes to scold Katou and Kira for being such a troublemaker.
Supplemental Information
Hair color: Brown
Eye color: Yellow
Outfit: Black V-neck shirt, brown jacket and long black trouser
Nationality/Race: Indonesian-Japanese

Voice Configuration
ACT 1: closed for download

ACT 1.5: http://www.mediafire.com/?cze1a1iqtby4or8
Password protected. Please PM his author for the password.
ACT 2 is currently in the middle of recording process.
Genderbender
Mutsu On (音六つ) can be got by setting Cain's flag to g-23
Usage Clause
His voicebank is not for commercial use.
Don't use him for any online roleplay purposes without his author permission.
Avoid Gary-Stu.
You may pair him with any of the other UTAUs those are from DV-Loid or not, because DV-Loid doesn't have official pairing.

This article is written and certified true and correct by the author of the character, kairi. The details seen here may be subject to change without prior notice.
Concept Art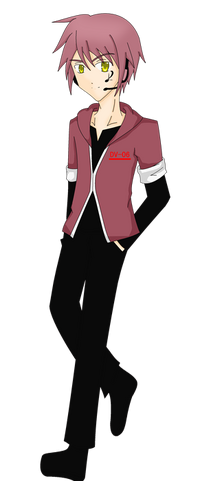 Community content is available under
CC-BY-SA
unless otherwise noted.