| | |
| --- | --- |
| | Cyberloid V |

ALIAS: Kia
NAME INTERPRETATION:
Hasn't an interpretation but the name come from "Cyberspace" and "android", and "V" is her serial number.
TYPE:

CL-Cyberloid


MODEL:

V

GENDER
Female
VOICE RANGE
C4-C5
RELATED CHARACTERS

Cyberloid VI (her older sister)

Cyberloid IX (her older brother)

AGE
UNKNOWN
GENRE
Pop, slow music
HOMEPAGE
Cyberloid Utau
WEIGHT
105 lbs (50 kg)
CHARACTER ITEM
A skateboard
CREATOR
MVD
HEIGHT
155 cm
VOICE SOURCE

MVD little sis

PICTURE LINK LIST
Deviant Art
BIRTHDAY
September 20
LIKES
Ride her skateboard.
MEDIA LIST
Youtube
RELEASE DATE
November 22 (2014)
DISLIKES
Spicy food
SIGNATURE SONG

None so far

PERSONALITY:

She is pretty active, happy, and likes being outside. She is a bit childish sometimes and CAN'T stay still! Always do as she wish and likes bothering her older brother Ixennon. Also, Kia hasn't much control over

her strength, what means that she can easily break anything. She only listen to Vinnea, her older sis.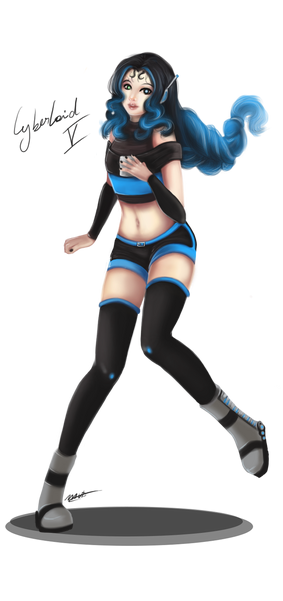 Name: Cyberloid V.

Alias: Kia (kɪɑː )
Birthday: September 20
Nationality: Chilean.
Voice donnor: Myla-xan's sister.
Gender: Female android.
Age:UNKNOWN. (Appearance: 14 years old)
Height: 1.55 m.
Weight: 48 Kg.
Chest - Waist - Hips: 75 - 60 - 80 cm.
Eyes: she has black-green (left) and black-blue (right) eyes, similar to twinkling lights of the computers.
Hair: Her hair is black in the part near to the head and slowly turns light blue in the tips.
Favorite Color:  Light blue.
Favorite food: Candies.
Favorite season:  Summer.
Likes:  Ride skateboard, practice sports, and spend her time in green areas.
Dislikes:  Spicy food! and be treated as a little kid.
Voice ideal range: Between C4 and C5.
*She can't remove the things in her ears because those things are her "batteries". *She is an ANDROID, not human. *She is very serious about (any) sport! *She hasn't much control over her strength and is very V-E-R-Y strong.
Voice Configuration HERE
She is absolutely free for use, that is, anyone can use her. V has a voice bank written in Romaji and Hiragana.
Actualy she has a CV that you can download from her official webpage.
Voice Download
The voice bank download is HERE
This article is written and certified true and correct by the author of the character. The details seen here may be subject to change without prior notice.
Community content is available under
CC-BY-SA
unless otherwise noted.