| | | |
| --- | --- | --- |
| |   | Cyberloid IX |

ALIAS: Ixennon
NAME INTERPRETATION:
Hasn't an interpretation but the name come from "Cyberspace" and "android", and "IX" is his serial number.
TYPE:

CL-Cyberloid


MODEL:

IX

GENDER
Male
VOICE RANGE
C3-C4
RELATED CHARACTERS

Cyberloid VI (his older sister)

Cyberloid V (his little sis)

AGE
UNKNOWN
HOMEPAGE
Utau-Cyberloid
WEIGHT
154 lb (60 kg)
CHARACTER ITEM
Pottato
CREATOR
MVD
HEIGHT
170 cm
VOICE SOURCE

MVD

PICTURE LINK LIST
Deviant Art
BIRTHDAY
November 30
LIKES
Play videogames, watch sy-fy movies and sing.
MEDIA LIST
Youtube
PERSONALITY: He is impatient, moody, serious and cold, the oposite of his sister. He doesn't like be with others and hates being interrupted when he is doing somnething that he likes.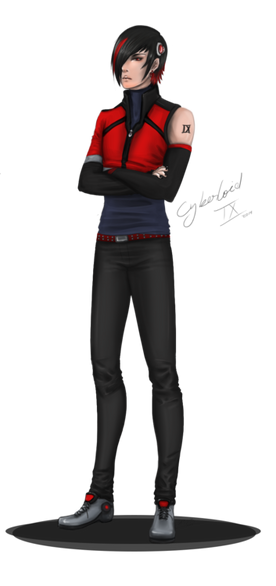 Name: Cyberloid IX (The name comes from "Cyberspace" and "android". "IX" is his serial number.)
Alias: Ixennon. (ɪtʃenɔːn)
Nationality: Chilean.
Voice donnor: Myla-xan.
Age: UNKNOWN. (Appearance: 16 years old)
Height: 1.70 m.
Weight: 60 Kg.
Chest - Waist - Hips: 90 - 83 - 87 cm.
Eyes: he has black-red eyes, similar to twinkling lights of the computers.
Hair: His hair is black in the part near to the head and slowly turns red in the tips. Also he had a red lock in the front part of his long bangs which cover his right eye.
Favorite Color: Black.
Favorite food: Chocolate.
Favorite season: Spring.
Likes: Play music and  video games, listen to rock music, be alone.
Dislikes: People in general, sing -he says-, hot things, summer, go outside, the sun, spend time with his peers, etc.
Personality: He is impatient, moody, serious and cold. He doesn't like be with people or with their peers, instead he prefers to spend all day on the computer or singing something. IX sometimes feels misunderstood and only trust on her older sister VI.
Voice ideal range: Between C3 and C4.
More Information:
He can't remove the thing in the left part of his head because that thing is his "battery".
*He is an ANDROID, not human.
*He says that he doesn't like singing, but that is false, in his "heart" -or whatever he has as "heart"- he loves singing.
*As well as his sister, he doesn't use headphones because he can hear really well everything.
Voice Configuration
He is absolutely free for use, that is, anyone can use him. IX has a voicebanks CV and VCV in both written in Romaji and Hiragana.
Voice Download
The voice bank download is HERE
This article is written and certified true and correct by the author of the character. The details seen here may be subject to change without prior notice.
Community content is available under
CC-BY-SA
unless otherwise noted.