CAFE

(Japanese: カフェ)

NAME INTERPRETATION:


CAFE: From french, meaning "Brown"                         

TYPE: UNDECIDED (Nigeloid?)
MODEL: 07
GENDER
Male
VOICE RANGE
Optimum: C2-C4
RELATED CHARACTERS

ROUGE ("Sister")


VERT ("Brother")


BLEU ("Sister")


VIOLETTE ("Sister")


GRIS ("Brother")

AGE

4 (It has been 4 years since her manufacture.)


Appearance: Older Teen


Voice: Low

GENRE

Best: Unknown


Works well for most songs (especially in lower ranges)

HOMEPAGE
http://projectrouge.blogspot.com/
WEIGHT

Unknown

CHARACTER ITEM
NONE
CREATOR
Asparagus
HEIGHT
6'3" (192.024 cm)
VOICE SOURCE
Asaparagus
PICTURE LINK LIST
BIRTHDAY
Dec 5, 2010
LIKES
Unknown
MEDIA LIST
RELEASE DATE
Sept 1, 2011
DISLIKES
Unknown
SIGNATURE SONG
NONE

PERSONALITY: Friendly and amiable, though his size often deters people. He often acts as a big brother for his "siblings", despite actually being the youngest, and is usually looked up to as such. Gives bear hugs, and lots of them.
Supplemental Information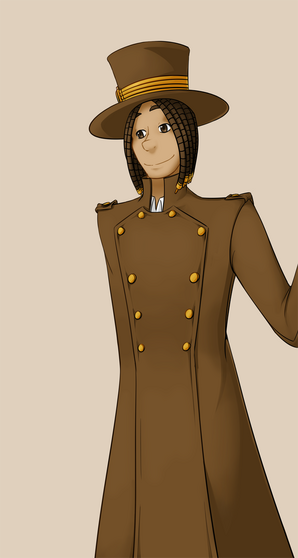 Hair color: Brown
Headgear: Top Hat
Eye color: Brown
Earphones: None
Dress: Large brown overcoat, Dark brown slacks, Tophat.
Nationality/Race: Android (In the silly fanfic, Japanadaamerican.)
Voice Configuration

The following information is certified correct and true by the creator. The details seen here may be subject to change without prior notice.
Japanese Voicebank: Hiragana and Romaji encoding. Includes some (limited) english sounds.
Voicebank link: http://projectrouge.blogspot.ca/p/cafe.html
Notes: Works best between (high)C2-C4. Best resamplers to use with him are Fresamp.exe and tn_fnds.exe
Song List (Reccomended Listening)
For a more complete list, please visit Here
The Girl in Byakkoya (Newcomer video)
Alluring Secret ~Black Vow~ (With VIOLETTE)
Hohoemi no Bakudan (Smile Bomb!) (with VIOLETTE)
Mrs. Pumpkin's Comical Dream (With ROUGE)
Leave In Summer Yet You're In My Fluffoughts (With BLEU)
Original Songs
Community content is available under
CC-BY-SA
unless otherwise noted.