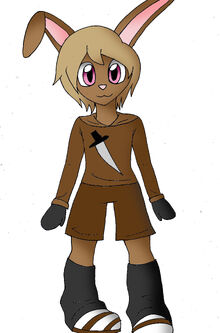 Supplemental Information
Eye Color: Neon Pink.
Hair Color: Creamy Brown.
Headset: N/A
Outfit: Brown hoodie, with a large black sword on the front, and a grey shield on the back. He wears brown shorts. He wears black gloves, and black legwarmers. He wears brown and white sneakers.
Nationality/Race: Canadian. Rabbit.
Voicebanks
Bunsen's flags are contained in a txt file in the file. ACT1:
ACT 1 (Fixed OTO):
MikuMikuDance Model
Bunsen now has a downloadable and usable model for MMD. It is available for download here:
Trivia
He was based on an original character from MrMokona14, based on Bonnie the Bunny from Five Nights At Freddy's, but made tame.
Due to being taught to speak by Aka, he speaks in Japanese. Zana is working on teaching him English.
Yuki has made him wear a dress before. Bunsen didn't say no.
Bunsen is short for his age, being 4 foot even at the age of 20.
Bunsen is pansexual, which means he is interested in anyone, as long as he likes their personality.
Important Stuff
Do not claim Bunsen as yours!
Credit MrMokona14 in covers if you use Bunsen.
MrMokona14 doesn't mind if you RP as Bunsen, just don't get too over the top as him.
Community content is available under
CC-BY-SA
unless otherwise noted.