Biyouki Tamago is an excited 14 year old who loves to sing and dance. She is often quite greedy and competitive, even though she has good empathy skills and likes helping others. She has long, white hair, red eyes and uses glasses when reading. Her character item is a fried egg. Biyouki's full name means "ill egg". Her name has no meaning nor does it reflect on her personality or appearance.
Biyouki has a romaji encoded and aliased CV voicebank which will be up for download soon. Biyouki has problems pronouncing "chi", and will have to replace it with "shi" in most her songs
VB download: http://www.mediafire.com/file/1dyu5i05ebd9987/Upiloid.rar/file.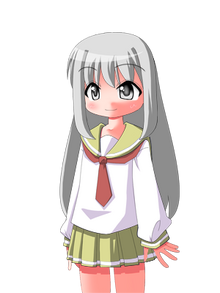 Community content is available under
CC-BY-SA
unless otherwise noted.