B@LL Powerine


(Japanese: ボン'ぽうぇりね - B@LL POWERINE)

NAME INTERPRETATION:

B@LL ( Ball ;  B@LL ) - His name means ball like in football. For his surname is Powerine       ( Po we ri ne ) The creator think about Power first that Power means the power that will change a virtual singer. And ri ne is add for perfect with Power. ( Po we ri ne )

TYPE: VELOID
MODEL: UNKNOW
GENDER
Male
VOICE RANGE
G2-D#4
RELATED CHARACTERS

Bew Powerine    (Young sister)
Beem           (Chitchat freind) 

AGE
15
GENRE
Any
HOMEPAGE
Official site
WEIGHT
45kg
CHARACTER ITEM
Magic book
CREATOR
Veloid S
HEIGHT / MEASUREMENTS
160cm
VOICE SOURCE

βძll

PICTURE LINK LIST
Official site    Deviantart
BIRTHDAY
June 10th
LIKES
reading  books, knives,blood, blue,water
MEDIA LIST
Official site
RELEASE DATE
March 15th 2016
DISLIKES
spicy foods, sport, ,selfish people
SIGNATURE SONG
Ribbon of the evening shower
PERSONALITY: 


He is so kind,friendly,smart and polite.

He also cares very much about friends.But he has something that hide from other people out,That is Yandere mode,Sometime he show when he sad or angry or he want to persecute people in Veloid.He always stay at

library everyday to reads books or check his website.
Character Design
Hair color: Black                                                                                                                                            
Eye color: Blue eyes                                                                                                                                      
Dress:  Blue headphone,Blue tie,White shirt,Black shorts,Blue and white boots                              
Nationality: Thai
*note:The design of character also change when new product release.*
Voicebank Downloads
First created is 15/3/2016                                                                                                                              
::CV:: 
B@LL Powerine ACT2 -SMILE- → This voicebank is first voicebank of VELOID, -SMILE-  that means sound maybe like young boy ( Shota ) ,sounds maybe sound likes colorful and clear voices.
::VCV::
B@LL Powerine VCV → This voicebank is like CV but more smooth. clearly and colorful like CV
::CVVC::
B@LL Powerine CVVC THAI → This voicebank is CVVC THAI, It's for thai but you can to english too.
Other Related Characters
 This is more character that  related with B@LL Powerine.
All of these friends are related with B@LL Powerine.  ( Almost friends are from Thailand)
Usage Clause
RULE:
Don't change utau's name by yourself

Don't pitching any VELOID into non-character.  (You will not allow to change them to genderbends)

Don't release any VELOID by yourself.
You are not allowed to re-upload videos or works that Veloid S made it.
You must use the official art for each voicebank for strictly. (If you draw art for them that will allow)
Please make tag for your things with name of character and VELOID when you use it.
Don't make the pervert or 18+ picture for every character in VELOID.
Make sure credit for Veloid S every times when you use VELOID.
Contact Veloid S
Concept art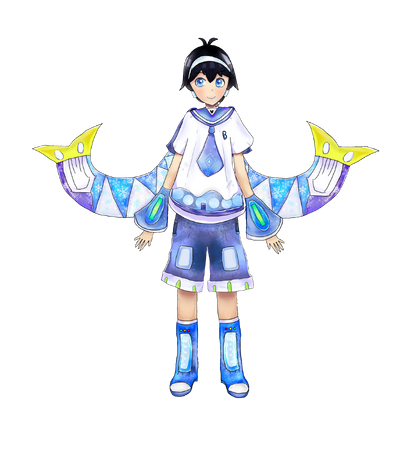 Community content is available under
CC-BY-SA
unless otherwise noted.