Miki Azure


(Japanese: アズレミキ Azure Miki)

NAME INTERPRETATION:
アズレ (Azure; in english, means sky blue)
ミキ (Miki; a beautiful princess or tree)

TYPE: UTAUloid
MODEL: 12AM - taken from her birth month and name
GENDER
Female
VOICE RANGE
C4 - C5
RELATED CHARACTERS

Hisoka Kurosawa (friend)

RUS (friend)

Hisui (so-called younger sister)

AGE
GENRE
Ballad, Pop, etc.
HOMEPAGE

none

WEIGHT
48 kg
CHARACTER ITEM
Slurpee
CREATOR
Leenh (DA)
HEIGHT / MEASUREMENTS
162 cm
VOICE SOURCE
Leenh
PICTURE LINK LIST
Concept Art
BIRTHDAY

15 December 1994

LIKES
Playing with her hair, showing simple magic tricks, calm atmosphere, drinking Slurpee, warm places
MEDIA LIST
YouTube
RELEASE DATE
August 31, 2011
DISLIKES
Having a bad hair day, missing something, rain
SIGNATURE SONG
PERSONALITY: Azure is calm and caring. A figure of a good sister. She also prefers to go outside rather than staying at home.
Character Design
H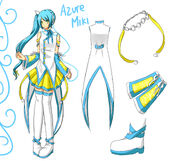 air color: Sky blue.
Eye color: Greenish Yellow.
Headphone: White with sky blue and yellow illuminations and white microphone.
Skirt: Bright yellow with bright blue line
Boots: White with blue accessories (more like bangles)
Nationality: Japanese.
Blood Type: A

Voice Configuration
Azure's voice is encoded in Hiragana and Romaji. If you want to use Azure's voicebank, please credit me through my deviantArt :D
ACT1: here
Facts
She likes to go outside to take a little walk
She likes to drink Slurpee (the one you can find at Seven Eleven).
She likes to show some magics to her friends to cheer them up
If she's in a badmood, she'll throw a card that usually used for her magic tricks (it's sharp, be careful).
She can speak Indonesian (a bit) and Japanese.