| | | |
| --- | --- | --- |
| |   | AXIS OG06 |

NAME INTERPRETATION:

An imaginary line about which a body rotates
Second top most cervical vertebra

TYPE: OGIENOID


MODEL: OG06 - The 6th model of the OGIENOID series

GENDER
Female
VOICE RANGE
F3~C#5

GROUP / TEAM

AGE
Early 20s
TIMBRE
Mature, feminine
HOMEPAGE
WEIGHT
154 lbs / 69.9 kg
GENRE
Pop, Ballad
CREATOR
HEIGHT / MEASUREMENTS
5'8" / 172 cm
VOICE SOURCE
N/A
PICTURE LINK LIST
ReferenceBoxart
BIRTHDAY
March 6th
LIKES
Beaches, writing code
RELATED CHARACTERS

Yaron (Husband)

YA-01 Artemis (Son)

YA-02 Gaia (Daughter)

YA-03 Lyra (Daughter)

RELEASE DATE
July 8, 2014
DISLIKES

Winter, large birds

SOCIAL MEDIA
Twitter

PERSONALITY: Calm, sensual and actively seeks out new information. Likes to mother others.
Character Details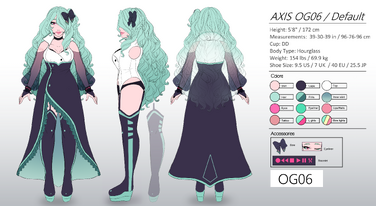 Body Type: Hourglass
Body Class: Chubby
Hair: Long, curly, thick
Color: Mint green
Eyes: Pink
Technical Details
Romaji encoded
Kana aliased
UTAU PC
Voice Distribution
Released Voicebanks:
Complete:
VCV voicebank with two appends. Monopitch.
Use the up arrow in the SuffixBroker for Lively and * to use Revolve.
TELLURIC:
A normal tone multipitch VCV + Falsetto package.
Input the letter "F" into the SuffixBroker to use the Falsetto.
Planned Voicebanks:
Complete V2:

Updated VCV monopitch, taking base samples from TELLURIC as well as two newly recorded appends.

ULTIMATE:

VCV Japanese with two appends. Quadrapitch.
Arpasing English with two appends. Tripitch.
Includes Vocal Fry, JP growl, Falsetto and other recordings.
GLOBE:
VCCV English, monopitch with Vocal Fry.
May include appends.
MMD Models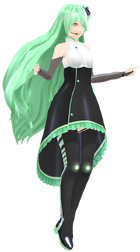 Public
New models are currently in the works in an updated style. These new models are an effort by four individuals.
Appearances
STUDIO OGIEN: Axis is an official mascot of the group STUDIO OGIEN. She, along with Atlas OG07, are used to officially represent them.
Project Synth: Axis has (along with Atlas) performed live as of Project Synth's 2014 holographic concert.
Facts
Axis OG06 is canonically a biodroid (an android created with organic materials-in this case, synthetic organs).
She is Heterosexual.
Axis is married to Yaron

The two have three children (Artemis, Gaia and Lyra).

She is canonically broadly European American.
Axis and Atlas' "birthdays" are separated by a few hours.
Usage Clause
TERMS OF USE:
R-18 Content Allowed? Forbidden
Commercial Use of Voicebank Allowed? With Purchase of License
Commercial Use of Character Allowed? Permission Required
Do these terms apply to derivative characters/voices? Derivatives of any sort are forbidden
OFFICIAL ILLUSTRATION:
Use of official illustration and reference is permitted so long as no profit is being made from their use.
Changing the size, mirror reversing and other editing is allowed so long as the character remains recognizable. This means that images depicting Axis OG06 may not be edited to resemble or create any other character.
Credit artist Ceren/LadyOgien when using these images.
This page is managed by LadyOgien. Please do not edit this page.
Community content is available under
CC-BY-SA
unless otherwise noted.