AU-RA


(Japanese: おうら Oura)


NAME INTERPRETATION:
Aura (おうら) - An intangible quality that surrounds a person or thing

TYPE: AMALOID
MODEL: 07 (Counting down from 09)
GENDER
Female
VOICE RANGE
D#5-A3
RELATED CHARACTERS
Hoshimi(Friend)
Hoshiko(Friend)
Atlas(Friend)
Arina(Friend)
Carmine(Friend)
AGE
15
GENRE
Anything goes
HOMEPAGE
N/A
WEIGHT
130 lbs/ 59 kg
CHARACTER ITEM
Pinwheel
CREATOR
Andstill
HEIGHT / MEASUREMENTS
5'2 / 157 cm
VOICE SOURCE
Andstill
PICTURE LINK LIST
Reference

BIRTHDAY
June 19th
LIKES
Attention, birds, flying
MEDIA LIST
Youtube

RELEASE DATE
N/A, Currently private
DISLIKES
Being ignored, getting rejected for duets
SIGNATURE SONG
Ten-Faced
PERSONALITY: An outgoing and energetic young girl with a darker side. Normally she is very sweet. AU-RA enjoys receiving attention from her friends, but if she is left out, ignored, or denied a duet she easily snaps. Once snapped, she becomes almost homicidal, scaring off those who she had begun to grow close to. Only recently has she made friends who do their best to help her cope through her unstable moments.

Character Design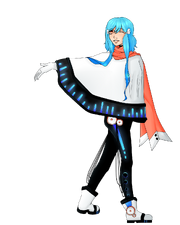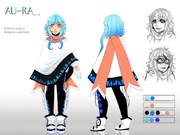 Hair color: Teal to bue gradient
Eye color: Orange
Headgear: White wing hairclips
Headphones: A black, wireless microphone with orange illumination in her right ear
Body: Thin, small frame
Top: Long white poncho with teal-blue gradient sound sensors. Underneath is a black, sleeveless, bodysuit. Speakers are worn on the hip, chords attatching to the leg. Always wears her long, orage scarf. Footwear: Two ankle length white boots with orange speakers
Other: Two beauty marks underneath her left eye.
Nationality/Race: Robotic/Western

Quotes
"Would you like to sing together?"
"C-Carmine y-you.. YOU NERD! kicks shin"
"One step closer to her and I'll kill you."
"I'm content the way I am."
Voice Configuration
Current Voicebanks
Japanese: CV. Aliased to hiragana and romaji. Currently private.
Future Voicebanks:
N/A
Extra Character Relations
Hoshiko - Share the same creator. She stalks Aura when Carmine is with her, taking pictures of the two
Hoshimi - Share the same creator. Aura is usually annoyed by the younger Utau
Atlas - The two are as close as sisters, having known one another since their creation
Arina - They spend a lot of their free time with eachother watching dumb foreign shows/movies
Carmine - The two are in a flirtationship of sorts. They are incredibly awkward with eachother
Maestra Cantabile - Looks to her as a mother figure. Maestra is effective at calming her down
Popular Appearences
Hope.Ust: AU-RA has been planned to star in a small Visual Novel game called "Hope.ust" along with Atlas, Arina, Carmine, Maestra and several other over-seas Utau and Vocaloids. Set in a time where Utaus are forbidden to exist, the player maneuvers the game to uncover the key to saving the Utau program itself.
Facts
She can be refered to as both AU-RA and Aura. AU-RA is primarily used as her stage name
Her pinwheel's normally plastic blades become razors when she snaps
AU-RA, though sharing the same creator as Hoshiko and Hoshimi, is not part of the Hoshi family
Though they have a larger age difference, she is currently is a flirtationship with Carmine
She rarely ever takes off her scarf. The only time she does is to wash it
Usage Clause
TERMS OF USE:
This voice bank was made for free use. Do not attempt to use this voicebank commercially in any way. 
Public redistribution of this voice bank is prohibited.
Violent depictions are okay.
NL, GL are okay.
R-18 scenarios involving this character/voice bank are forbidden unless otherwise stated by the author.
OFFICIAL ILLUSTRATION:
Use of the official illustrations/boxart images and references is permitted.
Changing the size, mirror reversing and other editing is allowed so long as the character remains recognizable. 
This means that images depicting AU-RA may not be edited to resemble or create any other character.
Crediting the DeviantArt user Andstill is required when using these images!
Community content is available under
CC-BY-SA
unless otherwise noted.