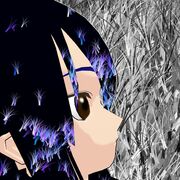 NAME MEANING: Pure Ambition
Information
Atsushi is a young, male vocal who has a vocal range of:
[ACT 1] - C#3 - A4
His voice provider is SCARYCHEWINGGUM - whos' YouTube channel can be found here
He is the genderbent version of Hiroko.
Description
Atsushi is 15 years old, he has a long ponytail which is black, but tipped with a light blue. His eyes are a rich brown, and he wears a loose, light grey, V-necked shirt, with trousers which have a grey camoflage pattern on them. He goes around bare-footed.
He has no official personality, as the voice provider/producer wishes for the community to make their own with no restrictions.
Family/Friends
Hiroko - No official relationship - Genderbend
Downloads/Demos
No demos have yet been released.
ACT 1 CAN BE DOWNLOADED HERE
Community content is available under
CC-BY-SA
unless otherwise noted.