| | | |
| --- | --- | --- |
| |   | ATLAS OG07 |

NAME INTERPRETATION:

Titan forced by Zeus to support the heavens on his shoulders
Top most cervical vertebrae of the spine

TYPE: OGIENOID
MODEL: OG07 - The 7th model of the OGIENoid series
GENDER
Female
VOICE RANGE
G3~C#5
GROUP / TEAM
AGE
Late teens
TIMBRE
Youthful, feminine
HOMEPAGE
STUDIO OGIEN
WEIGHT
130 lbs / 59 kg
GENRE
Pop, EDM
CREATOR
HEIGHT / MEASUREMENTS
5'6" / 167 cm
VOICE SOURCE
N/A
PICTURE LINK LIST
ReferenceBoxart
BIRTHDAY
March 7th
LIKES
Christmas, baking sweets
RELATED CHARACTERS
RELEASE DATE
July 8th, 2014
DISLIKES
Hot weather, arguing
SOCIAL MEDIA
Twitter
PERSONALITY: Shy, timid and introverted. Genuinely kind to others.
Character Details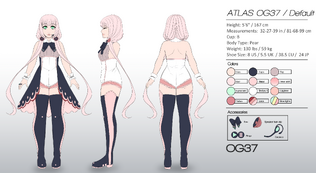 Body Type: Pear
Body Class: Chubby
Hair: Long, straight, thin
Color: Powder pink
Eyes: Lime green
Technical Details
Romaji encoded
Kana aliased
UTAU PC
Voicebank Distribution
Released Voicebanks:
Complete:
VCV voicebank with two appends. Monopitch.
Use the up arrow in the SuffixBroker for Endure and the down arrow to use Lullaby.
CELESTIAL:
A normal tone multipitch VCV.
Planned Voicebanks:
SUPREME:
VCV Japanese with two appends. Quadrapitch.
Arpasing English with two appends. Tripitch.
Includes Vocal Fry, JP growl, Falsetto and other recordings.
(Unnamed):
VCCV English, monopitch with Vocal Fry.
May include appends.
MMD Models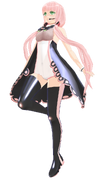 Public
New models are currently in the works in an updated style. These new models are an effort by four individuals.
Appearances
STUDIO OGIEN: Atlas is an official mascot of the group STUDIO OGIEN. She, along with Axis OG06, are used to officially represent them.
Project Synth: Atlas has (along with Axis) performed live as of Project Synth's 2014 holographic concert.
Facts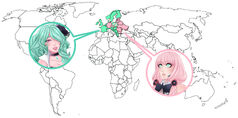 Atlas OG07 is canonically a biodroid (an android created with organic materials-in this case, synthetic
organs).
She is Demisexual. Her romantic orientation is up for interpretation.
She is canonically broadly European American.
Atlas and Axis' "birthdays" are separated by a few hours.
Usage Clause
TERMS OF USE:
R-18 Content Allowed? Forbidden
Commercial Use of Voicebank Allowed? With Purchase of License
Commercial Use of Character Allowed? Permission Required
Do these terms apply to derivative characters/voices? Derivatives of any sort are forbidden
OFFICIAL ILLUSTRATION:
Use of official illustration and reference is permitted so long as no profit is being made from their use.
Changing the size, mirror reversing and other editing is allowed so long as the character remains recognizable. This means that images depicting Atlas OG07 may not be edited to resemble or create any other character.
Credit artist Ceren/LadyOgien when using these images.
This page is managed by LadyOgien. Please do not edit this page.
Community content is available under
CC-BY-SA
unless otherwise noted.