Ando Hitomi


(Japanese: あんど

ひとみ

- Ando Hitomi)

NAME INTERPRETATION:
(Ando; peaceful wisteria) - Common Japanese surname

(Hitomi; one with beautiful eyes) Common Japanese first name in females; originally meant to draw attention to holographic red eyes (in version one, when she was depicted as completely robotic)

TYPE: UTAU
MODEL: - 00
GENDER
Female
VOICE RANGE
C4-C6
RELATED CHARACTERS

Miyazaki Chetose (best friend)

Okama Tsuyoine (friend, frequent song partner)

AGE
13-14
GENRE
Any
HOMEPAGE
None yet
WEIGHT
127 lbs
CHARACTER ITEM
Mint Leaves
CREATOR
Killian (also goes by Worm)
HEIGHT / MEASUREMENTS
5'1" ft
VOICE SOURCE
Killian H.
PICTURE LINK LIST
DEVIANT ART
BIRTHDAY
January 17
LIKES
Happy people, her friends, mint leaves, peppermint, seafoam colors, annoying people, singing, sleeping, talking
MEDIA LIST
YOUTUBE
RELEASE DATE
August 31, 2012 (ACT 3 Release)
DISLIKES
Pessimistic people, quiet people, hermits, bugs, people who tell her to be quiet
SIGNATURE SONG
none
PERSONALITY: Hitomi is very bubbly and air-headed, frequently forgetting things. She enjoys singing and is moderately good at it, and so she thrives with it. No really, it's her only talent. Unless you count texting. She's good at that too. Other than singing, her favorite pastimes are annoying the crap out of her best friend Chetose and shopping. She is actually very down to earth and compassionate, though she gives off a stuck-up kind of signal. She'd gladly stop whatever she's doing to help someone. Her heart's in the right place, but her head is too much in the cloud for anybody to notice. She doesn't care though, because she's too airy to notice either.
Supplemental Information
Hair color: Light mint green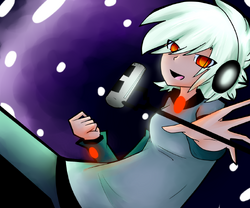 Headgear: Headphones
Eye color: Red with orange glow
Earphones: Black headset with bright blue illumination in the center
Clothes: Bright blue-green shirt with black trim and a glowing red gem on the collar. Bright blue-green pants.
Shoes: White with a teal stripe
Accessories: Bright blue-green arm warmers
Nationality/Race: Japanese-American
Voice Configuration
TECHNICAL INFORMATION

ANDO HITOMI ACT 3
ARCHIVE FILENAME
Ando Hitomi ACT 3.zip
ARCHIVE FILESIZE
43 MB
DATE RELEASED
N/A
NO. OF VOICE PHONEMES
UNKNOWN; ESTIMATED 120
TOTAL UNCOMPRESSED SIZE
48 MB
PHONEME ENCODING
ROMAJI
AVERAGE FREQUENCY
320.63 Hz (C4)
FRQ FILE PRESENCE
YES
LANGUAGES SUPPORTED
Japanese
UNOFFICIAL SUPPORTED LANGUAGES
UNKNOWN
OTO.INI PRESENCE
YES
TUNED OTO.INI
YES
LANGUAGE PARSED VIA OTO.INI
NONE
VOICEBANK AUTHOR
AbuserofUTAU
TECHNICAL DIRECTOR
AbuserofUTAU
RECORDING SOFTWARE USED
AUDACITY
DOWNLOAD LINK: http://www.mediafire.com/?0g23igjr4ado81y
Ando Hitomi is designed to sing only Japanese. Her voicebank includes Hiragana aliases and breath files.
Information in this page was provided by the voicebank author. The page is subject to change without prior notice.
Community content is available under
CC-BY-SA
unless otherwise noted.