History
After Griega Arctegami was abandoned by the creator, Altair was created to be her new replacement.
Due to her appearance, she is said to be only among the teenage years, but unfortunately, no official age was given to Altair.
About Altair
Eye color: Light Brown
Hair color: Blue
Headgear: None 
Clothes: Purple shirt, yellow skirt, red shoes

Nationality/Race: American-Japanese
Way of speaking/accent: English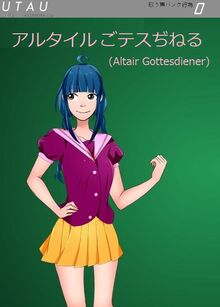 Voice Configuration 
Altair is a bilingual voicebank.
The creator found out that this UTAUloid will update very slowly due to the busy work of the creator.
DOWNLOADS:
See the 'Official Site' for more information.