Aku Gaki (JPN: 悪ガキ, Romaji: あくがき) is a childish, mischievous sounding utau made by paraps.
Voiced and Oto'd by Pazuru.
Etymology
悪ガキ literally means 'Bad Kid' or 'Evil Brat', this is a reference to his delusions that he is an evil cult leader.
Concept
Aku Gaki is a young boy who thinks he is the leader of a cult, because of this, he is very narcissistic and enjoys when people listen to everything he says. Despite his cheerful demeanor, he has a quick temper and wont hesitate to talk down on people. 
Gaki has an established personality, he can be adjusted and changed to fit certain songs etc
His Character Item is a cross or a bag of trash
Likes: Singing, talking a-lot, knives
Dislikes: people who don't listen to him
Appearance
White/silver hair
Black devil horns
Black Clergy shirt and shorts
Calf High Socks with a garter
Red/Black combat boots
Black Knife Holster on his calf
(OPT.) Red robe
Rectangular earrings (often shown with an upside down cross)
Bandaged hands
Devil tail
Relationships
Voice Distribution
AKU GAKI CV MULTIPITCH
-http://www.mediafire.com/file/7y60kt5r57zc41r/Akugaki.zip/file
AKU GAKI VCV TRIPITCH
-http://www.mediafire.com/file/w6dphq07iudgn0s/Aku_Gaki_VCV.zip/file
Voice information
Contains end breaths
Kana aliased and encoded
Voiced by Pazuru
Terms of Use
A proper terms of use regarding utau belonging to paraps as a whole is located on his offical website .
R-18 Content Allowed? Permission Not Required
Commercial Use of Voicebank Allowed? Permission Required
Commercial Use of Character Allowed? Permission Required
Do these terms apply to derivative characters/voices? Yes, but derivatives must be created with permission
Trivia
His character item is shown to be a bag of trash due to the running joke that Gaki is often found in a dumpster
Despite the cult he believes is running does not exist, he somehow has followers.
He tends to get mad at extremely petty and childish reasons.
He owns pet cockroaches.
He is secretly half-demon
despite being fairly young, he has taken up a habit of smoking.
Gaki is morosexual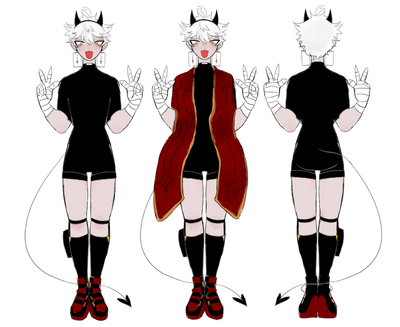 Community content is available under
CC-BY-SA
unless otherwise noted.