AKIRA NINER


(Japanese: 九里朗 - Kuri Akira)

NAME INTERPRETATION:
九里 = Kuri (Concerning the number 09)
朗 = Akira (Brightness and clever)
TYPE: TIMEloid
MODEL: XI (9 on Roman numerals.)
GENDER
Agender (

Any pronoun is fine, but "She" is preferred.

)
VOICE RANGE
D#3~A4 (A#3)
RELATED CHARACTERS

Ayame Tenneson (Unknown relationship. At least friendship.)
Haruka Eights (Friend.)
Koru Fivet (Friend)
CUL (VOCALOID Idol)
Clara (VOCALOID Idol)
V flower (VOCALOID Idol)


AGE
18
GENRE
Any
HOMEPAGE
TIMELOIDs website
WEIGHT
65 Kg (143lb)
CHARACTER ITEM
Dumbbells.
CREATOR

SpanishPandaHero (YT)
SpanishPandaHero (dA)

HEIGHT / MEASUREMENTS
170 cm (5'6)
VOICE SOURCE
SpanishPandaHero
PICTURE LINK LIST
Concept art,

BIRTHDAY
April 1st
LIKES
Music, sports, videogames, roleplaying, anime and manga, getting attention.
MEDIA LIST
You Tube
RELEASE DATE
April 1st, 2012 (old voicebank) - May 2nd, 2015 (new voicebank)
DISLIKES
Heights and people that steal the people attention from her.
SAMPLE
HAKUMEI

PERSONALITY:


(ENFP)

Akira enjoys interacting with people and feels motivated about meeting new people. She tends to be more abstract than concete. She doesn't focus on the details or on the immediate realities. She acts spontaneously without thinking about the possible consequences, acting how she wants and feels even if that doesn't make any sense. She usually tries to avoid important decisions. Akira is also strong and energetic.

Supplemental Information
Hair color: Black.

Eye color: Blue.

Nationality/Race: Spanish - Human 1.

Voice Configuration
TECHNICAL INFORMATION

AKIRA NINER (ACT4 VCV+CVVC) (九里朗 VCV+CVVC)
ARCHIVE FILENAME
Akira Niner.rar
ARCHIVE FILESIZE
83,3 MB
DATE RELEASED
2nd May 2015
NO. OF VOICE PHONEMES
Files: 167 voices: 2667
TOTAL UNCOMPRESSED SIZE
83797860 bytes
PHONEME ENCODING
Romaji with hiragana and romaji alias
AVERAGE FREQUENCY
216.9 Hz (A3)
FRQ FILE PRESENCE
YES
LANGUAGES SUPPORTED
Japanese
UNOFFICIAL SUPPORTED LANGUAGES
Spanish and English
OTO.INI PRESENCE
YES
TUNED OTO.INI
YES
LANGUAGE PARSED VIA OTO.INI
NONE
VOICEBANK AUTHOR
SpanishPandaHero
TECHNICAL DIRECTOR
SpanishPandaHero
RECORDING SOFTWARE USED
Adobe Audition and Audacity
RESAMPLER
TIPS
FLAGS
F0B0Y0C3L2H0
DOWNLOAD LINK: Download Mirror (mediafire)

SPECIAL NOTES:
It's a VCV with CVVC config. The voicebank can be used as a VCV, CV and CV VC. It's a japanese voicebank, however it contains some extra phonemes that can be used for english or spanish songs.
Concept Art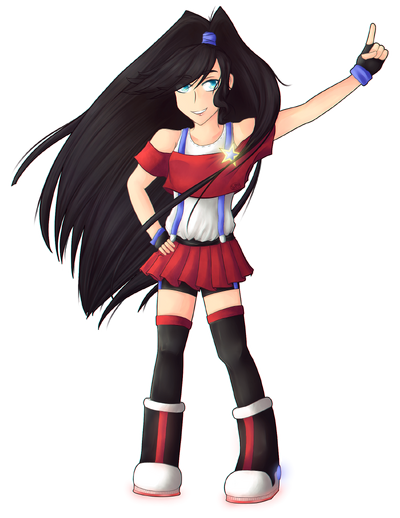 Terms of use
· You CAN'T edit or/and make a genderbend/fanloid using their voice.
· You CAN'T claim this/these voicebank/s as yours.
· You CAN'T use this Utau for religious hymns.
· You CAN make drawings and songs (covers and originals) using this character, as long as you credit me for the voicebank (SpanishPandaHero.)
· Ask me before using this character for roleplaying, please.
· DON'T create +18 stuff of this character, please.
· You CAN ship this character with the character you want (even if they are male, female, non-binary or they aren't human) as long as you don't break the last one rule. (No NSFW stuff)
· If you can't find here the answer to your question, check the FAQ or send me an ask there.
· Of course, you CAN'T use this character and voicebank for commercial and illegal purposes.


Creative Commons License
https://i.creativecommons.org/l/by-nc-nd/4.0/88x31.png

Info and Voicebank by SpanishPandaHero is licensed under a Creative Commons Attribution-NonCommercial-NoDerivatives 4.0 International License.
Based on a work at http://timeloid.tumblr.com/characters.

Permissions beyond the scope of this license may be available at http://timeloid.tumblr.com.
Community content is available under
CC-BY-SA
unless otherwise noted.