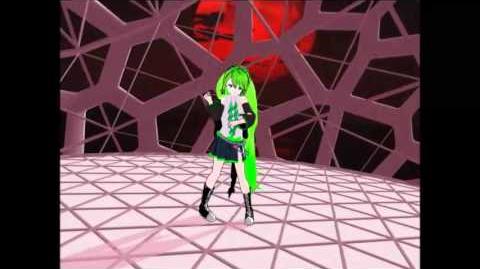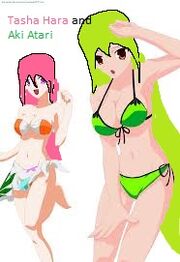 Japanese Name:
First Name:Aki
Last Name:Atari

TYPE: Cheetahloid
Aki is a custom made Utauloid

GENDER: Female
RELATED CHARACTERS/Are Utau Family:
Utshi Utskii- Oldest Sister
http://utau.wikia.com/wiki/Utshi_Utskii?action=edit
Desho Hiruni- Friend
Tesune Rizu-Friend
http://utau.wikia.com/wiki/Tesune_Rizu
Michi Yuko-Older sister
http://utau.wikia.com/wiki/Michi_Yuko
Ako Atari- Male counterpart
Okami Koinu-Friend
Supaka hanashi-Friend
http://utau.wikia.com/wiki/Supaka_Hanashi
Tengoku Hyo-Friends mom
Kimyona Hikari-Friend
Tasha Hari-Mom
AGE: 10 years
VOICE RANGE:
WEIGHT: 72 lb
CHARACTER ITEM:Paint Brush
CREATOR:MikuMikuCheetah
VOICED BY: Grace Bergeon
HEIGHT: 4.6 ft
BIRTHDAY: August 8th
LIKES: Art And Crafts
DISLIKES: Science
RELEASE DATE: July 4, 2013
SIGNATURE SONG: (Cover) Po Pi Po
PERSONALITY:Aki is a fun loving girl who is alwayd hyped and moving around. she tries her best to overcome her bordom and is usally restless.

Plese go to this youtube channel to veiw videos by Aki Atari: http://www.youtube.com/user/MikuMikuCheetah?feature=watch
Voicebank Download:http://www.mediafire.com/download/3lv1uesr7lhjvz3/Aki_Atari.zip
Supplemental InformationEdit
Hair color: Green
Eye color: Light Blue
Clothing: A grey shirt with a green ruffly thing down the shirt the shirt also has a bow in the back she also has a black and green skirt she also has converse and glooves that are like mikus just with a green edge ahe also has a headband thats black with green dots
Hair Style: bangs with ancle legnth hair
Nationality/Race: Human
CatchPhrase: I NEED PAINT!!!
Favorite Phrase: If the colors right paint it
Fun factsEdit
Aki Likes To Dance And Sing With Michi Yuko
Aki Likes To Sing Higher Notes
Usage ClauseEdit
you CAN edit her BUT only to fix her Phisics(MMD model)
You CAN'T redistributte
You CAN'T claim as your own
You CAN make another (Ex. tda Append, Onepeice, TDA) model with my permission
you CAn make art of Aki Atari
You CAN have fun with Aki Atari.