VOICE CONFIGURATION:
download his voice here: http://www.mediafire.com/download/t830ka3f7aneo2b/Akaon_Hono.zip
voice preview: https://scratch.mit.edu/projects/58973396/
His best vocal range is C3. Any higher than A#3 and he will end up sounding like a girl. This is because he was voiced by the same voicer as Haruko Tsuchiya, who also happens to be Akaon's girlfriend.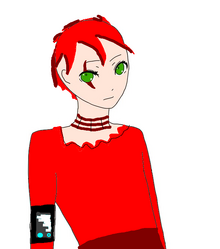 Akaon does not currently have a face icon when you load him into UTAU, although the face icon has been made it just hasn't been put in. I would also refrain from trying to OTO him. it doesn't look like the OTO is done, but it is, but it won't show up because my computer is weird.
RULES:
Do NOT use for: - anything illegal, offensive or inappropriate.
DO use for: - Entertainment! That's what UTAUs are for, anyway.