Japanese: 

茜の鬼

NAME INTERPRETATION:                                茜の鬼: The Red Demon

Gender
Female
VOICE RANGE

Champagne: C2 - C6

RELATED CHARACTERS

Calypso: Master                         

Aoi Kureyabashi: Twin Brother                         

 AGE AT DEATH

16

GENRE

Any

HOMEPAGE
WEIGHT
65 kg
CHARACTER ITEM
Knife
CREATOR
Aika
HEIGHT / MEASUREMENTS
5'1"
VOICE SOURCE
Aika
MEDIA LIST
Soundcloud
BIRTHDAY
17th of October
LIKES

Fire          

PICTURE LIST
RELEASE DATE

Champagne: 2017/30/12

DISLIKES
Calypso,

Aoi.

SIGNATURE SONGS

PERSONALITY:

Very Brash and out going. small gremlin that will try to ruin your day. whenever she's not an angry small edge lord teen she's either playing WoW online with her guild, Going out with friends to wander 'bout for a few hours, or going to some "haunted" place with her friends to have some fun and scare them and pull pranks on one another. If any of them are to get hurt she instantly teleports them all out and either moves to a different spot or cancels the thing all together and apologizes. she tries not to hurt her friends but sometimes her angry gremlin mode kicks in and she can't help herself, there have been burns and when she snaps out of it she doesn't talk to them for a few weeks even though they're mostly fine with it cause they're forgiving people. she has Bipolar disorder which is troublesome and makes it hard for her to safely interact with other humans in real life. if you try to talk to her about her kindness with her friends she will attempt to burn you and act like they don't exist/that it never happened.
Supplemental Information
 Hair color: Brunette
 Eye color: Light Blue
Nationality: Japanese/German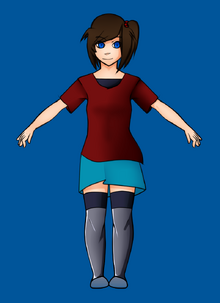 Rules
Any commercial use of Akane is permitted by the creator but they would wish to be notified.
Art commissions of Akane is permitted by the creator but they would wish to be notified
Depictions of Bestiality, Pedophilia, and Rape are not prohibited
Voicebank Download

 
Community content is available under
CC-BY-SA
unless otherwise noted.