AISURU KOE


(Japanese: 声愛する - Koe Aisuru)
NAME INTERPRETATION:
声(Koe) - Meaning "Voice".
愛する (Aisuru) - Meaning "Love", "Loving".
TYPE: UTAULOID
GENDER
Female
AGE
22
CREATOR
Rinni-P
HEIGHT
5'8 (172.72cm)
WEIGHT
157lbs (71.214kg)
MEASUREMENTS
B: 39.5 in (100.33 cm)
W: 31 in (78.74 cm)
H: 41.5 in (105.41 cm)
Body Shape: Pear
BIRTHDAY
August 13
LIKES
Memes, parties, socializing, making new friends, & self-confidence
DISLIKES
Being rude, bugs, & social pressure
CHARACTER ITEM
Grape
VOICE SOURCE
Rinni-P
MEDIA LIST
DEVIANTART
YOUTUBE
SOUNDCLOUD
RELEASE DATE
tba
SIGNATURE SONGS
tba
PICTURE LINK LIST
DEVIANTART

RELATED CHARACTERS
Chiyo Ne (friend)
DALiLA (friend)

HOMEPAGE
Official Website,
Koe Aisuru Wiki,
SoundCloud,
YouTube

PERSONALITY: Flirtatious, very energetic, friendly, confident in social situations (social butterfly), extroverted, and girly. She is a prankster and enjoys being the center of attention. Depicted also as a [Deredere].
Supplemental Information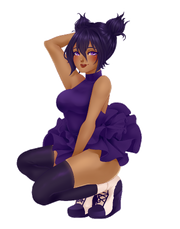 JAPANESE: CV v1.0
hair color: Dark purple. Her hair is straight, and is commonly depicted as very messy. She has two pigtails that stick up on her head.
head gear: None
eye color: Purple (Lighter than her hair)
outfit: Purple dress with three layers, and short white & purple boots. Also, her boots have purple laces. See concept art for details.
nationality/race: African-American
favorite phrase: tba
Voice Configuration
JAPANESE: CV v1.0
language: Japanese
voice bank type/version: CV 1.0
aliases: Romaji*
release date: tba
voice bank range: tba
voice bank description: tba
preview: tba
download: tba
author notes: creating oto

appends: none currently available
Usage Clause
There are rules and regulations imposed by the creator in regards to usage of the voice bank, character, and art of Aisuru Koe. An English and Japanese translation of the rules is provided by the creator, but the English version of the rules will be resorted to in a time of uncertainty for official decisions. The creator has the right to change the rules and regulations in regards to the usage of the voice bank and character at any time without notice. The use of Aisuru Koe's voice bank is at your own risk, and the creator is not responsible for any issues or damages.
Aisuru Koe's icon image is by MissJorru (www.deviantart.com/missjorru).
The information on this page may be changed at any time without prior notice.
*Some users may need to convert the filenames into Kana before using the voice bank.
Community content is available under
CC-BY-SA
unless otherwise noted.