AI HIKO


(JAPANESE: 愛彦- 彦愛- アイ ヒコ - Ai Hiko)

NAME INTERPRETATION:
アイ (Ai; from 愛, meaning Indigo Blue)
ヒコ(Hiko; from 彦, meaning Chieftain)

TYPE: Pop

GENDER

Female

VOICE RANGE

G3 ~ D6 (CV ACT2) E3-A4 (VCV)

RELATED CHARACTERS


Ochi Mizuamene(older Sister figure)

Omo Millennia (older Sister)


Blitz Bazooka (Friend)


Yakuaka Kirito (Protective Brother)


Ryoukuji Hiko (Counterpart)


Koneko Chikara  (Sister)


Victory Ne (Brother )

AGE

16 (2020)

GENRE

Any

HOMEPAGE

(tb a)

WEIGHT

46 kg

CHARACTER ITEM

Giant Red Apple

CREATOR

HEIGHT

156 cm

VOICE SOURCE

Satsuki98

PICTURE LINK LIST

BIRTHDAY

31 July 1998

LIKES

Apples

MEDIA LIST

RELEASE DATE

August 29. 2010 (OLD) December 2020 (Up coming VCV)

DISLIKES

Pink

SIGNATURE SONG

PERSONALITY: Tomboyish and quirky, slightly nonchalant about those around her. Very confident about herself despite her soft vocal.
Supplemental Information
Hair color: Violet or Pink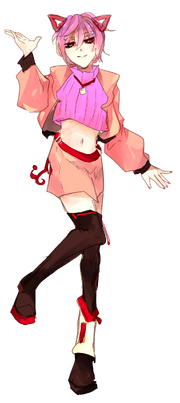 Headgear: none

Eye color: Magenta

Earphones: White Neko ears with purple accent

Dress: Pink sweater with black crop top underneath. Pink bomber jacket.


Nationality/Race: ?
Fun Facts
Voice Configuration
Act 1 : unavailable for public due oto problem
Act 2 : still on BETA stage. You can try out at here
( All Act Demo can be viewed here )
Her voicebank is available both on Romaji and Hiragana. VCV upcoming this Winter.
The author allowed fair usage of this voicebank for free; NOT FOR SELLING. Don't redistribute her voicebank without Satsuki98's approval. DON'T steal Ai Hiko's VB and design. Now, feel free to use her as long it follows UTAU rules of Usage.
Certified true and correct from the Ai Hiko creator, Satsuki98. The Content of this page is subject to changes without prior notices
~Satsuki98