51RỒNG/KAIDA FUJIMORI

(Japanese: フジモリカイダ - 不治も理解だ - Fujimori Kaida)

 

NAME INTERPRETATION:
会だ/51rồng ( Kaida; meaning little dragon, rồng, vietnamese for dragon)
藤森(Fujimori;wisteria forest)

TYPE: TRANVORloid
MODEL:51_101
GENDER
Chimera ( mix of Dragon and human, physicly female)
VOICE RANGE

D3~B4 (cv)

E3~B4 (VCV)

RELATED CHARAC

TERS

Yutone Umik ( friend, guardian, fellow TRANVORloid)





Kenta//KOIPOID ( friend,fellow TRANVORloid)


Soune_Keiji ( friend)


Kabe//WALLDROID (friend)





Nanine Iro ( Idol)


/Naomi_Nako ( close friend)


Hyoku Che ( girlfriend, favorite person)

AGE
6 months ( dragon age) 11 years ( human age)
GENRE
Unkown
HOMEPAGE
WEIGHT
148 lbs
CHARACTER ITEM
Croissant Bread
CREATOR
Tiffi-Tan
HEIGHT
4"11 ( 150 cm)
VOICE SOURCE

Tiffi_tan

PICTURE LINK LIST
deviantart
BIRTHDAY

June 4th 2000

LIKES

Food,electronics, her fellow Tranvorloids, VIPPERLOIDS, her friends, her family, eating

MEDIA LIST
youtube
RELEASE DATE
July 14th 2012
DISLIKES

????

SIGNATURE SONG
none
PERSONALITY: 51rồng is careful about everything but herself, so she is very clumsy. She is very kind torwards loved ones and friends, and tends to ignore ones she dislikes.
Character Design
Hair color: (see concept)
Headgear: (see concept)
Eye color:(see concept)
Shirt: (see concept)
Pants : (see concept)
Arms: (see concept)
Shoes: (see concept)
Other:(see concept)
Nationality: Vietnamese
Voice Configuration
51rồng voicebank is encoded in Kana (Hiragana)
ACT 3.5 can be downloaded here :
http://www.mediafire.com/?z2xz3s4x9wxjzc1
her VCV ACT 1 can be downloaded her : 
http://www.mediafire.com/download/qe74yuz8nqfxf3p/51rong%E9%80%A3%E7%B6%9A%E9%9F%B3.rar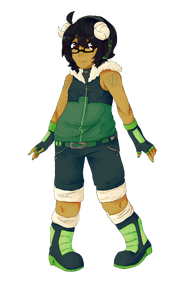 TECHNICAL INFORMATION

51rồng, Fujimori Kaida (不治も理解だ

)

ARCHIVE FILENAME
51rong ACT 3.5.rar
ARCHIVE FILESIZE
unkown
DATE RELEASED
June 14th
NO. OF VOICE PHONEMES
unkown
TOTAL UNCOMPRESSED SIZE
unknown
PHONEME ENCODING
Kana (Hiragana)
AVERAGE FREQUENCY
237.9 Hz (A#3)
FRQ FILE PRESENCE
YES
LANGUAGES SUPPORTED
Japanese, 
UNOFFICIAL SUPPORTED LANGUAGES
English
OTO.INI PRESENCE
YES
TUNED OTO.INI
YES
LANGUAGE PARSED VIA OTO.INI
UNKNOWN
VOICEBANK AUTHOR
Tiffi-Tan
TECHNICAL DIRECTOR
UNKNOWN
RECORDING SOFTWARE USED
Audacity
DOWNLOAD LINK: http://www.mediafire.com/?z2xz3s4x9wxjzc1
Community content is available under
CC-BY-SA
unless otherwise noted.